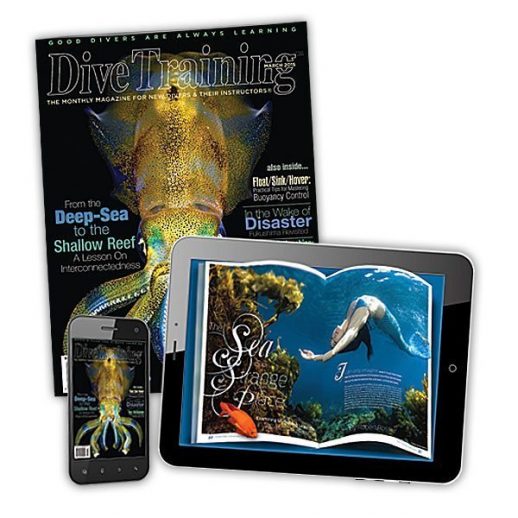 Subscription / Renewal Services
$17.95 – $48.95
Due to COVID-related dive store closures and advertising suspensions, Dive Training is on a temporary hiatus. We will resume accepting subscriptions as things open up. We very much look forward to resuming year #30 of diving's educational magazine.
---
If you'd like to receive or renew Dive Training, simply complete the fields at the left and click the Submit button at the bottom of the form, or call toll free 1-800-444-9932. We will start or renew your subscription immediately.
If you are a diver who wants to learn more about safe diving and diving's environments, you will find Dive Training packed full of useful and interesting information.
Dive Training is a bi-monthly publication. Annual newsstand cost is $29.70. Subscribe or renew today at a one-year subscription price of $17.95. Please allow 30 to 60 days for delivery of first issue.
Outside US and US Territories: If you live in Canada, postage is $9 per year. If you live in any other foreign country postage is $15 per year.
ADD DIGITAL
Print subscribers can now order additional access to Dive Training on Apple and Android devices, and Kindle Fire. Add $4 for a one year digital subscription, $7 for a two year subscription and $9 for a three year subscription.
Digital subscriptions may take up 5 business days to be activated.
Additional information
| | |
| --- | --- |
| Subscription Length | 1 Year (6 issues), 2 Years (12 issues), 3 Years (18 issues) |
| Add Digital Subscription | No, Yes |
| Renew existing subscription? | No, Yes |