Here's a look at what you'll find between the covers of the March/April 2016 issue.
---
FEATURES
Mission-Specific Diving, Part 2: Exploring Beyond the Usual
By Eric Hanauer
In the second installment of this two-part feature, the author addresses mission-specific diving revolving around marine creatures large and small. In this article he outlines several exciting "bucket list" adventures, both topside and underwater, that offer experiences beyond that of cruising along a pretty stretch of coral reef.
Your Body as a Breathing Machine: A Diver's Guide to the Mechanics of Underwater Breathing
By Robert N. Rossier
We breathe in and out and in and out all the time — most of the time, without even thinking about it. But as divers, it's important to understand the mechanics of breathing and the performance of scuba regulators, so we can keep ourselves breathing easy underwater.
Nemo's Neighborhood: Ecology Basics Every Diver Should Know
By Alex Brylske
As ecology means, "study of the house," a good way to understand a foundational concept of ecology — the ecosystem — is using a related metaphor of a neighborhood. When we add a little bit of science to our scuba adventures we're likely to gain greater enjoyment of the undersea community.
---
COMMENTARY
Editorial: My Real Passport
By Alex Brylske
Buddy Lines
Dive Observer: Monitor National Marine Sanctuary May Be Expanded
By Gene Gentrup
No Dumb Questions: Weighting for Safe Diving, Avoiding Travel Nightmares, and Self-Sufficiency as a Solo Diver
By Alex Brylske
---
DIVE EXPLORATION
Dive Geo: From Port Ghalib to St. John's Reef: Exploring Southern Egypt's Red Sea
By Jesse Cancelmo
Passport: Dive travel deals from all over
Compiled by Gene Gentrup
Diving USA: Dive travel opportunities across America
---
EVERY MONTH
Scuba Skills: Up, Over and In: Tips for Performing the Deep-Water Exit
By Barry and Ruth Guimbellot
Instructor Tips: Flip the Classroom: Tips for Turning Your Teaching Upside Down
By Robert Rossier
Always Learning: Looking Back to See the Way Forward On Reflections and Intentions
By Marty Snyderman
Dive Shop
Compiled by Gene Gentrup
What's That?: Fishes of the Sand Biome: Razorfishes, Jawfishes and Snake Eels
By Marty Snyderman
Behind the Lens: Shining Some Light On Your Light Meter
By Marty Snyderman
Premier Classifieds
Dive Training Classifieds
Dive Training Quiz
Final Check: What It Looks Like When…You Analyze Your Nitrox Tank
By Cathryn Castle
---
Want your favorite scuba articles with you wherever you go? Download the Dive Training Magazine app!
Apple devices: https://itunes.apple.com/us/app/dive-training-magazine/id835775079?mt=8
Android devices: https://play.google.com/store/apps/details?id=com.maz.dtmag&hl=en
Kindle Fire: http://www.amazon.com/Dive-Training-Magazine/dp/B00IUM7GY8
---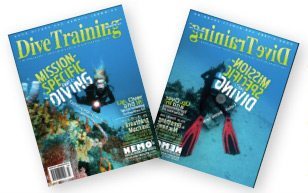 The Covers
Photos by Guilherme Garcia
Not every "good dive" is one with exceptional visibility and lots of pretty reef creatures. In this month's cover feature, "Mission-Specific Diving, Part 2: Exploring Beyond the Usual," author Eric Hanauer outlines destinations divers can visit for cultural and historical adventures, like diving in the South Pacific among artifacts left over from World War II.