Here's a look at what you'll find between the covers of the March/April 2017 issue.
---
FEATURES
The Challenges of Being a Sirenian: A Closer Look at Manatees and Dugongs
By Chris Huss
A Loose Cannon, a Dead Horse and the Devil to Pay: Seafaring Words In Everyday Speech
By Linda Lee Walden
Sanctuaries at Sea: New England's Stellwagen Bank National Marine Sanctuary
By Matthew Lawrence
---
COMMENTARY
Editorial: In Between
By Cathryn Castle Garcia
Buddy Lines
Dive Observer: Cargo Vessel Newest Texas Dive Site
By Gene Gentrup
No Dumb Questions: Finding a Buddy, Life Spans of Sharks, and Redundant Air
By Robert N. Rossier
---
DIVE EXPLORATION
Dive Geo: Exploring America's Pacific Northwest: The San Juan Islands
By Chris Huss
Passport: Dive travel deals from all over
Compiled by Gene Gentrup
Diving USA: Dive travel opportunities across America
---
EVERY MONTH
Scuba Skills: Getting the Water Out: Mastering the Mask Clearing Skill
By Barry and Ruth Guimbellot
Instructor Tips: Attention, Retention and Accident Prevention: Tips for Making Knowledge Stick
By Robert N. Rossier
Always Learning: Coming Into Focus In the Coral Triangle: On Photographs, People and Perspective
By Marty Snyderman
Dive Shop
Compiled by Gene Gentrup
What's That?: Sea Urchin Appreciation: In Praise of Mother Ocean's Pincushions
By Marty Snyderman
Behind the Lens: Focus In On Focusing Options
By Marty Snyderman
Premier Classifieds
Dive Training Classifieds
Dive Training Quiz
Final Check: What It Looks Like When…You Hold the Line
By Barry and Ruth Guimbellot
---
Want your favorite scuba articles with you wherever you go? Download the Dive Training Magazine app!
---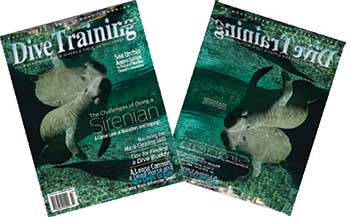 The Covers
By Cathryn Castle Garcia and Guilherme Garcia
In this month's cover feature, "The Challenges of Being a Sirenian: A Closer Look at Manatees and Dugongs," we learn the natural history of these gentle "so ugly they're cute" creatures, and why the life of a sirenian isn't always easy.
---
We've been publishing Dive Training magazine for 25 years now. In celebration of our "Silver" anniversary, we've made a virtual library of every cover – front and reverse – from each year of the last two and a half decades.