Here's a look at what you'll find between the covers of the May/June 2016 issue.
---
FEATURES
Cities On the Bottom of the Sea: The Coral Reef as a Community
By Alex Brylske
Cities are more than a collection of buildings, so we can never know what a metropolis is really all about from just a street map. The same goes for a coral reef; one can never understand a reef by just studying its topography, or even by getting to know the names of some of its residents. In this article, the author helps us understand the relationships taking place on the reef, and how this interaction results in a community.
'Let This Be a Lesson' Learning From DAN's Incident and Injury Files
By Robert N. Rossier
When it comes to diving safety, the Divers Alert Network is the organization in the know. They compile statistics on scuba fatalities, injuries and incidents from around the globe. This article overviews reports of dives gone wrong so we can learn some important strategies to make our diving safer.
Beyond Recognition: How the Women Divers Hall of Fame Helps Future Industry Leaders
By Karen Straus
Women Divers Hall of Fame members are an elite group that includes the most notable women leaders and innovators in the diving community. Beyond recognizing and honoring the contributions of women divers, the organization's primary goal is to encourage future generations of divers though scholarships and training grants.
---
COMMENTARY
Editorial: A Noble Endeavor
By Alex Brylske
Buddy Lines
Dive Observer: Vandenberg Becomes Subsea Art Gallery
By Gene Gentrup
No Dumb Questions: How to Get Started as a Diver, Anxiety Issues, and Is It Necessary for Divers to Be Strong Swimmers?
By Alex Brylske
---
DIVE EXPLORATION
Dive Geo: A Trip to the World's Aquarium: Diving La Paz, Mexico
By Sarah Feldberg
Passport: Dive travel deals from all over
Compiled by Gene Gentrup
Diving USA: Dive travel opportunities across America
---
EVERY MONTH
Scuba Skills: How to Be an Attention-Getter: Signaling Devices for Divers
By Barry and Ruth Guimbellot
Instructor Tips: Teaching Their Limits: Helping Divers Create a Code of Safe Conduct
By Greg Laslo
Always Learning: What's New? Introducing an Old Dive Buddy to a New World
By Marty Snyderman
Dive Shop
Compiled by Gene Gentrup
What's That?: If You Think They're 'Simple' Creatures, Think Again: The Secret Lives of Sponges
By Marty Snyderman
Behind the Lens: Face Focus
By Marty Snyderman
Premier Classifieds
Dive Training Classifieds
Dive Training Quiz
Final Check: What It Looks Like When…Safety Is Your Best Practice
By Cathryn Castle
---
Want your favorite scuba articles with you wherever you go? Download the Dive Training Magazine app!
Apple devices: https://itunes.apple.com/us/app/dive-training-magazine/id835775079?mt=8
Android devices: https://play.google.com/store/apps/details?id=com.maz.dtmag&hl=en
Kindle Fire: http://www.amazon.com/Dive-Training-Magazine/dp/B00IUM7GY8
---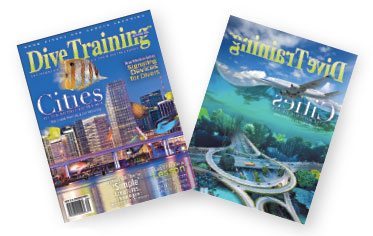 The Covers
In this month's cover feature, "Cities On the Bottom of the Sea: The Coral Reef as a Community," Dr. Alex Brylske uses a big-city analogy to help us gain a "sense of place" when understanding how individual inhabitants of the reef play a role in creating an ecosystem.