Here's a look at what you'll find between the covers of the September/October 2016 issue.
---
FEATURES
The Power of the Sea: Extracting Energy From the Oceans
By Robert N. Rossier
As divers, we might look at waves crashing ashore with a clear understanding of their power, and think carefully about what they mean to us and our dive plans. In this article, the author, who is a diver and also an ocean engineer, describes the various ways engineers look at waves – and how they're working to transform the sea's energy into electricity for powering our terrestrial world.
Requiem for Skin Diver: A 51-Year Retrospective
By Eric Hanauer
Skin Diver magazine was the most influential publication of its time in the diving industry, lasting 51 years before it went out of business in 2002. As a freelance writer, about 200 of the author's articles were published there from 1977 to the very last issue. When they celebrated their 50th anniversary in 2001, he was assigned to write the history of the magazine. The story never got published. Until now.
Making a Difference In Ocean Conservation: Volunteering In National Marine Sanctuaries
By Claire Fackler
As divers, we see the marine realm in a close-up, intimate way. It makes sense that we want to help protect and preserve what we love. In this article, the author reveals a number of volunteer opportunities available through NOAA's National Marine Sanctuaries.
---
COMMENTARY
Editorial: Rise and Fall: The Rest of the Story
By Mark Young
Buddy Lines
Dive Observer: Heavy Work Completed for Reef Restoration Project In Grand Cayman
By Gene Gentrup
No Dumb Questions: Questions Nondivers Have About Scuba
By Cathryn Castle Garcia
---
DIVE EXPLORATION
Dive Geo: Warming Trend: Exploring Once-Forbidden Cuba
By Eric Hanauer
Training Site: Hyde's Quarry: Maryland's Freshwater Dive Site
By Linda Lee Walden
Passport: Dive travel deals from all over
Compiled by Gene Gentrup
Diving USA: Dive travel opportunities across America
---
EVERY MONTH
Scuba Skills: 'Slight and Slow' Using the Fin Pivot Skill to Master Neutral Buoyancy Underwater
By Barry and Ruth Guimbellot
Instructor Tips: Inspired Learning: How to Motivate Your Students to Succeed as Divers
By Greg Laslo
Always Learning: What I Really Love: The Truth About Dive Travel
By Marty Snyderman
Dive Shop
Compiled by Gene Gentrup
What's That?: Cuttlefishes: A Natural Combination of Brains and Beauty
By Marty Snyderman
Behind the Lens: Current Challenge
By Marty Snyderman
Premier Classifieds
Dive Training Classifieds
Dive Training Quiz
Final Check: What It Looks Like When…You Carry a Snorkel
By Cathryn Castle Garcia
---
Want your favorite scuba articles with you wherever you go? Download the Dive Training Magazine app!
---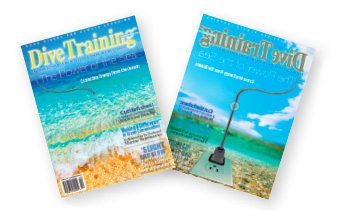 The Covers
This month's cover feature, "The Power of the Sea: Extracting Energy From the Oceans," gives us a new way to look at waves crashing on the beach. Where we see the beauty of a potential dive site, ocean engineers see a powerful energy source waiting to be harnessed.