This Indian Ocean island nation is made up of 26 geographical atolls. An atoll, which is derived from the Maldivian word atholhu, is the product of fringing reefs that originated from the sides of a volcano and then continued to grow toward the surface as the volcano receded back to the ocean floor. The resulting ring-shaped barrier reefs have a foundation of lava and dead coral, protect a central lagoon and are separated from each other by channels that lead from the lagoon to the sea.
About 99 percent of the Maldives is ocean and only 186 square miles (484 sq km) of the country is above the water's surface. With over 1,000 species of fish and 200+ species of coral, the natural underwater beauty of the Maldives is even more rich and extravagant than any man-made setting on land.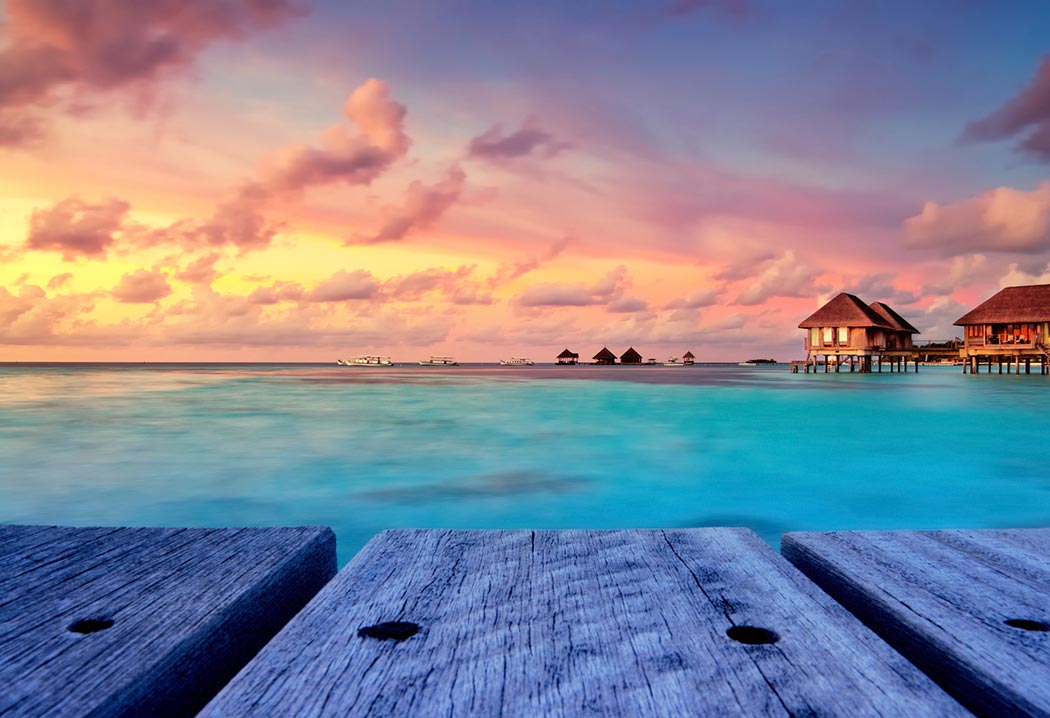 Location: 381 miles (610 km) south/southwest from the southern tip of India and 476 miles (762 km) west of Sri Lanka in the Indian Ocean.
Size: About twice the size of Washington, D.C., (56,000 square miles or 145,600 sq km).
Population: 345,000.
Capital: Malé.
Currency: The Maldivian rufiyaa (MVR) is pegged to the U.S. dollar at 15.36. U.S. dollars (as of August 2015 – be sure to check the latest exchange rate), and credit cards are widely accepted and often preferred.
Electricity: 220/240-volt AC at 50 cycles; no standard socket types.
Language: Maldivian Dhivehi is the official language, but English is widely spoken.
Time: UTC/GMT +5 hours.
Recompression Chamber: Located throughout the islands.
Climate and Dress: Air temperatures stay near 86 degrees Fahrenheit (30 degrees Celsius) year-round. Dress is casual and comfortable. Chests and thighs must be covered in Male' and on inhabited, nonresort islands.
Alcohol: You are not allowed to bring alcoholic drinks into the Maldives. Even if you purchase duty-free alcoholic items in the Dubai or Singapore airports en route to the Male' International Airport, these items will be confiscated upon arrival as bags are X-rayed. Only businesses specializing in tourism are allowed to import, store and/or serve alcoholic beverages.
There are no direct flights between the United States and the Maldives. Emirates Airline, Singapore Airlines, British Airways and Qatar Airways offer indirect flights. The departure tax is included in the cost of your airline ticket. A free 30-day Visa is extended upon arrival.
READ MORE ABOUT DIVING IN THE MALDIVES