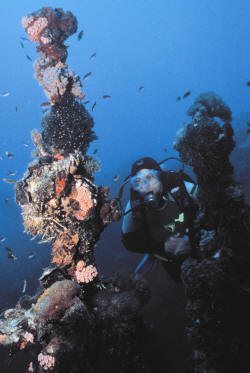 There aren't too many places in the world where one can almost travel back in time and experience an abundance of endemic life both above and below the water's surface like when visiting Australia's northeastern coastal region of Queensland. Bordering the Great Barrier Reef and the Coral Sea, the area is a haven for divers and naturalists.
A quirk of nature kept Australia — the only country that is also a continent — isolated from the rest of the world to develop many creatures and plants not found anywhere else on Earth.
After stepping from a rain forest land of predinosaur life, visitors can explore the Great Barrier Reef — the world's largest living organism — and then the fascinating underwater realm of the Coral Sea.
A Captive History
While the continent has been inhabited by the aboriginal people for possibly 65,000 years, explorers from other countries didn't discover this southern landmass until nearly the 17th century when the Dutch and Portuguese made brief stops along the western and northern coastlines. Unimpressed with what they found, the Dutch named the land New Holland and went off to settle more profitable lands farther north.
A few English explorers made note of the land, too, but it wasn't until Capt. James Cook's 1770 voyage of discovery that the more inviting eastern coast was discovered. Cook's survey of the new region aboard the Endeavour turned up many new species of plants and animals during his land excursions, including one six-week stint forced upon him and his group when they discovered that the Great Barrier Reef can put a hole in the hull of a ship.
After the American Revolutionary War, Great Britain found itself without a convenient place to dump unwanted prisoners, so Cook's report of this new land seemed to offer a good solution to England's overcrowded jail problem. In 1788, a fleet of 11 ships with about 1,100 people (of which more than 700 were convicts) arrived in what is now Sydney Harbor to start a new settlement. The penal colony eventually grew as additional fleets arrived with more "captive settlers" and new cities began appearing from the expansion.
A gold rush that started in 1851 and lasted several decades helped expand the country's exploration, immigration and settlement. Further immigration swings occurred after both world wars with about 96 percent of the estimated current population of 19.2 million being of European decent, mainly British and Irish. About 20 percent of today's Australians were born in other countries.
The aboriginal population has dwindled over the past two centuries and now accounts for less than 1 percent of Australia's total population with many living in tribal communities in remote areas.
While Australia is the sixth-largest country (about the same size as the continental United States) it has a sparse population (6 people per square mile [2 per sq km]). Nearly 80 percent of Australia's population lives along the southeastern coast with Sydney and Melbourne each containing more than 3 million residents. In fact, about two-thirds of all Australians live in cities with populations of more than 100,000.
The Commonwealth of Australia, the country's official title, is divided into six states and two territories. Good early planning placed the capitals of each of the states and territories along the coastline near protected harbors and major rivers. Only the country's capital, Canberra, is inland, but even it is only 80 miles away from the coast.
Like Canada, Australia is a constitutional monarchy with Queen Elizabeth II of England serving as the ceremonial head of state, but with little to no power. Instead, the country is ruled by a parliamentary system of government with a prime minister acting as the head of the ruling coalition or political party.
Like No Other Place on Earth
When Australia separated from the southern supercontinent of Gondwanaland (which also included Antarctica, South America, Africa, India and New Zealand) more than 50 million years ago, its lack of destructive forces allowed its rain forest inhabitants to evolve in isolation to their current form. Angiosperms, the most primitive of flowering plants, can only be found here in the oldest rain forest on Earth (the Amazon is just a tyke compared with this one). The King Fern, with fronds up to 20 feet (6 m), is basically the same plant as it was 325 million years ago.
Queensland's rain forest, filled with 60 percent of the continent's butterfly species and such marsupials as the cuscus, sugar gliders and tree kangaroos, is part of the United Nations' World Heritage Area, along with the Great Barrier Reef. Surprisingly, one of the most feared land animals in this region is the cassowary, a large flightless bird related to the emu. This bird's aggressive nature, coupled with sharp talons on powerful legs, can make it a dangerous encounter in the bush.
Yet, nothing strikes fear into the locals more than having a "saltie" surprise them along the side of a river. Another relic from ages past, the saltwater crocodile can grow to 20 feet (6 m) in length and humans are not excluded from its diet. They prefer the brackish waters of tidal rivers, but can go far inland and out into the ocean. The crocs prefer to lie in wait underwater and then propel themselves at missile speed with their powerful tails to snatch unsuspecting prey along the river edge.
Another hazard that swimmers face at certain times of the year is the box jellyfish, or "stingers." At times from October to March (usually the wet summer season) many beaches are closed as these jellyfish with tentacles as long as 9 feet (3 m) inhabit the coastline and can deliver fatal injuries.
The Greatest Reef
About 500,000 years ago, coral polyps began congregating off Queensland's coast in great quantities. Now billions of these tiny organisms have formed the world's largest chain of reefs (more than 2,500) and islands that extend about 1,250 miles (2,000 km). The Great Barrier Reef is as close as 10 miles (16 km) from Queensland's coast in some areas and as far out as 100 miles (160 km). Divers can explore this chain's 400-plus species of coral and 1,500 fish species in tropical waters that range from the mid-70s Fahrenheit (23-25 degrees Celsius) in the winter to lower 80s F (27-28 C) in the summer.
Beyond this barrier reef system and the normal range of day boats lies the Coral Sea, our destination for a week's worth of live-aboard diving on the Mike Ball Expedition's Spoilsport live-aboard that departed from Townsville. Other boats that offer Coral Sea trips from Queensland include the MV Nimrod Explorer and Spirit of Freedom. The Coral Sea is part of the South Pacific Ocean, but is an area that contains an unusually large number of coral atolls, submerged seamounts and bank reefs.
One of the first stops on the way to the Coral Sea is the shipwreck of the SS Yongala, which is within the Great Barrier Reef system but beyond the range of most day boats (48 miles from Townsville). This 394-foot (120-m) steel passenger and freight steamer sank without a trace in March 1911 during a storm. All 122 passengers and crew perished and the wreck remained undiscovered until 1958.
Since its sinking, the Yongala has become a haven for marine life with the ship resting at a starboard list in a depth of 100 feet (30 m) on a sandy bottom while the upper structure sits at 52 feet (16 m). Hard and soft corals cover the ship's surface for a colorful landscape with schools of trevally, kingfish, grunts, silversides, barracuda and batfish making their rounds over and under the site. Sharks lurk around the wreck while hawksbill and loggerhead turtles graze off the abundant food supply. Curious olive sea snakes wind through the ship's outcroppings while lionfish stay tucked away in recesses of the wreck. Numerous cleaning stations attract a wide variety of customers, including huge stingrays that are not shy around divers.
The Flinders Reef complex of the Coral Sea includes walls, seamounts and lively reefs ranging from depths more than 100 feet (30 m) to relatively moderate depths of 50 feet (15 m). Swim-through canyons can be explored at sites called Anemone City, Berlin Wall, Trigger Happy and Cod Wall. Currents are generally light in most areas and the 75-F (24-C) water temperature during the early spring season (end of August) invites the use of light hoods and gloves while diving. A 3-mm or 5-mm wet suit is recommended. Coral polyps spawn around October or November.
Since most of the diving in the Coral Sea is based from a boat at anchor, divers normally exit the stern and follow a descent line to the dive site. Occasionally, some sites require the crew to use inflatable boats to ferry divers back and forth and eliminate long surface swims. Nitrox and E-6 processing are generally available.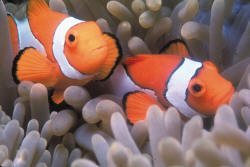 Purplish football anemones are common throughout the Flinders Reef complex, with their clownfish partners either hiding in their tentacles or boldly attempting to drive divers away. At depth, gorgonian sea fans grow to great size, some as wide as 15 feet (4.5 m).
One of the highlights of the Spoilsport trip was a visit to the boat's private Scuba Zoo. The only creatures that you concentrate on at this site are the 30 or more sharks that come to put on a show. Four large shark cages in a V-shape permanently sit 50 feet (15 m) down on a sandy bottom at this site where divers are invited to kneel on top of the cages for an unexposed view of the pregame show. Between the cages is a large, secured barrel filled with fish pieces that are hooked to a chain with an attached float.
With cameras snapping away, sharks begin circling the barrel for nearly 20 minutes as they wait for the contents to be released. Save some film for the main show because the crew will usher you into the cages while a divemaster manipulates a series of ropes that releases the barrel's lid. Up goes the float and in come the sharks into a massive feeding frenzy. It lasts only a minute or so before the sharks quickly disappear and divers can pour out of the cages in search of shark's teeth on the sandy bottom.
In addition to live-aboard diving there are many dive operators that run day boats to the reef from Cairns, Townsville and Port Douglas.
Australia Walkabout
Accommodations in Queensland range from simple bed-and-breakfast homes to elaborate coastal resorts. Camping is also quite popular.
A broad range of international restaurant fare can be found across the country, albeit with an Aussie flair. A well-decked out hamburger usually includes a beet slice and probably a fried egg. Ice-cold beer is a popular beverage, usually sold in "slabs" (cases) of 24 "tinnies" (cans). Native wines are gaining in popularity both locally and internationally.
In many restaurants, you grab a table and then go up to one counter to order your food and over to the bar to order your drink. The food will come out to your table while you're enjoying your drink. Perhaps this is why tipping isn't customary in Australia except at upscale restaurants, where 10 percent is acceptable.
Cairns is a central location for many activities. Trips to the rain forest jungles of the Daintree and Cape Tribulation national parks generally include an hour-long boat ride up the Daintree River to spot some "salties" and other exotic creatures. Another popular tour includes a scenic train ride up into the Atherton Tablelands to the tourist village of Kuranda. After shopping and lunch there, you hop on a Skyrail gondola and ride the cableway nearly five miles over the rain forest canopy back to the suburbs of Cairns. Next to the cable station is the Tjapukai aboriginal cultural park where you can get a lesson on native culture, arts and even instruction on how to throw boomerangs, spears or make music on the didgeridoo.
Rental cars are available for those who wish to strike out on their own. Driving is on the left side of the road. The interiors of automobiles are reversed to accommodate this so many of the controls are on the opposite side of the wheel. (This explains why the windshield wiper comes on when you think you're activating your turn signal.)
White-water rafting, kayaking and canoeing are also big outdoor adventures to be experienced, along with sailing along the coast. Spectator sports include Australian-rules football (which from what we observed means no rules at all), rugby, cricket and soccer. You can take a short flight or long drive down to Brisbane and stay out on Fraser Island, the world's largest sand island. Nearby Hervey Bay usually has about 3,000 humpback whales visit each year during their migrations. September is peak whale-watching time. A little way up the coast is the Mon Repos Turtle Rookery with a variety of turtles nesting there from early November through the end of March. Turtles come ashore to lay eggs around midnight when the tide is high. From mid-January to March, the young hatch and scamper to the water.
If you do plan a visit to Australia's tropical vacation state, then allow plenty of time to experience the world's oldest continually surviving rain forest as well as the diverse underwater ecosystems of the Great Barrier Reef and the Coral Sea. In either setting, you can kick back and enjoy the land of, "No worries, mate!"
By David Prichard