Want to have a little fun? Try walking into a gathering of experienced divers as you say, "Cocos Island" a little bit louder than you would in normal conversation, and then be quiet as other conversations stop in midstream, and watch as heads turn toward you. That little bit of innocent fun will show you the high regard experienced divers have for Cocos. Inevitably you will soon hear those who suddenly gathered around you share their tales about encounters with schools of scalloped hammerheads, whale sharks, silky sharks, manta rays and other megafauna ranging from schools of tuna to billfish.
If you are a relatively new diver, you might not have heard of Costa Rica's Cocos Island. It is a rather small, rugged-looking dot of land located well offshore of the Central American mainland in the vastness of the eastern Pacific Ocean. But this tiny oasis has made its mark in the world, first as a haven for pirates, and today as a destination for scuba divers who want to swim eyeball to eyeball with some of the oceans' larger and more thrilling species.
The Land and Climate
Only slightly larger than West Virginia, the Central American nation of Costa Rica is small enough that it is sometimes possible to see both the Caribbean Sea and the Pacific Ocean from atop the country's highest peak, Mount Cerro Chirripo at an elevation of 1,500 feet (455 m). Despite its small size, the terrain is surprisingly varied. Highlighting the landscape, verdant forests cover nearly half the country while numerous rushing rivers flow through the rugged mountain ranges that separate the coastal plains.
The climate is a mix of tropical and subtropical zones, but locales in higher elevations can be downright cold at times. Costa Ricans proudly boast of having 4.5 percent of the world's biodiversity, as the land is astonishingly rich with plants, birds, mammals, amphibians, insects and other life-forms. The dry season extends from December to April, but on the Caribbean coast December tends to be the rainiest month. For weather, the best course of action is to check with your travel planner when considering a side trip on mainland Costa Rica.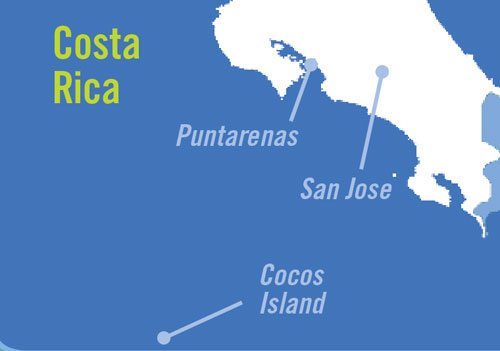 Remote and rugged, Cocos Island is 300 miles (480 km) southwest of Cabo Blanco, a prominent landmark on the southwest coast of Costa Rica. Accessible only by boat, the island is the only plot of land on the Cocos Tectonic Plate that breaks the surface along the oceanic volcanic chain that extends from Ecuador's Galapagos Islands and the Mesoamericam trench off southwest Costa Rica. Born from tectonic activity and volcanic upheaval that occurred 2.5 million years ago, the island is built of a mix of labradorite, basaltic rock and andesite lava flows. But from the deck of a boat you won't see much rock and solid surface, as the island is covered by a verdant tropical rain forest, the only such forest in the eastern tropical Pacific.
With a landmass of 9.2 square miles (24 sq km) Cocos is the largest uninhabited island in the world. Yet it is so small that the island is a challenge to find on many world maps. Renowned ocean explorer Jacques-Yves Cousteau proclaimed Cocos "the most beautiful island in the world." The island's natural beauty has not gone overlooked by Costa Rica, as it was declared a national park in 1978. In 1997 Cocos was bestowed the designation of a UNESCO World Heritage site, and in 1998 the island was designated as a Ramsar site on the List of Wetlands of International Importance.
The combination of the island's height (2,080 feet [630 m] at the peak of Mount Iglesias), near-equatorial location (5 degrees 33 minutes north latitude), relatively cool water and lack of wind combine to produce an annual rainfall of almost 23 feet (7 m), the most of any island in the eastern tropical Pacific. The highly irregular landscape boasts of more than 200 active waterfalls.
The first point of land bathed by the waters of the northern Equatorial Counter Current, Cocos is also strongly influenced by the confluence of the relatively cool waters of the California, Peru and eastward-flowing Equatorial Counter Currents. While surface water temperature is often in the neighborhood of 80 degrees Fahrenheit (27 degrees Celsius), thermoclines are common, and water temperature at diving depths is known to sometimes dip into the 60s F (16-20 C). Air temperature averages 75-80 F (24-27 C), but it can vary significantly in both directions, making it prudent to bring shorts, T-shirts, a hat, a pair of long pants and a lightweight jacket.
Two bays, Chatham on the northeast side of the island and Wafer on the northwest, are the only refuges that consistently offer safe anchorage. Providing a variety of excellent dive sites, numerous small basaltic islets and rocks surround the island. Manuelita Island is easily the largest of the satellite islands, yet it is small enough that divers routinely circumnavigate it on a single tank of air.
With the exception of a small contingency of park rangers and the occasional visiting scientists, Cocos is uninhabited. To go ashore, one must obtain permission from the park rangers, and all hikes must be guided.
Dive charter operators depart from and return to the Costa Rican mainland from the port city of Puntarenas. Although the crossing time is highly dependent upon weather and sea state, a typical crossing requires about 32 hours.
The People and Their History
Archaeologists tell us that the human occupation of what is now Costa Rica dates back at least 10,000 years but much of the culture of those early inhabitants remains a mystery. Archaeological sites in the Nicoya peninsula in the southwest and from the central highlands demonstrate a strong influence from the Mexican civilizations of the Olmec and Nahuati. Other remains reveal sophisticated work, with gold and jade being conducted more than 1,000 years ago.
The first European to set foot in the region was none other than Christopher Columbus who landed on September 18, 1502. Columbus and his men were warmly greeted by a gathering of Carib Indians. Unfortunately the Spanish introduced smallpox to the sparse indigenous population. The disease decimated the natives, as the colonizing Spanish conquerors followed their common practice of bringing African slaves to work the land. Today, only 1 percent of the country's 3 million people are of indigenous heritage.
Difficult and unpopular, Costa Rica was a challenging place for settlers. The Spanish ultimately showed far more interest in Mexico and Peru, and the first colonial city was not established until 1562. In 1821 when Mexico rebelled against Spain, Costa Rica fought for and established its sovereignty. Land reforms soon followed.
Over the years military rule has occurred on a number of occasions, but on the whole, Costa Rican politics has been far less violent and volatile than in the rest of Central America. Today, Costa Rica is a nation with a firmly entrenched democracy.
The storied past of Cocos Island is legendary among seafarers and treasure hunters. Under the leadership of Johan Cabecas, the Spanish first discovered Cocos in 1526. The island first appeared on a French map in 1542 as Ile de Coques, or Nutshell Island. The Spanish mistook the name as Isla del Cocos, Island of the Coconuts. This name has stuck over the years despite the fact that over time the island has been claimed by many nations.
Serving as a midocean refuge this small, this seemingly out-of-the-way dot of land played a significant role in the lives of explorers, pirates and whalers dating back to the 16th century. In 1865 pirates led by Captain Edward Davis sacked the city of Leon, Nicaragua, and confiscated the region's riches. In addition, Davis' men were reputed to have wrested the cargo of several ships making their way from Lima, Peru, to Panama, and then to Spain. The bulk of the treasure is believed to have been buried on Cocos where Davis and his men supposedly took up residence while suffering from the paradox of having gained extraordinary wealth with no way to spend it.
The heyday of treasure burying on Cocos purportedly occurred during a short period of time beginning in 1818 when British Sea Captain Bennett Graham aborted his mission of surveying coasts throughout the South Pacific and took up a life of piracy. Legend has it that he stole 350 tons (317,515 kg) of gold bullion from Spanish galleons and buried it on Cocos.
Other buried treasures supposedly include those hidden by Portugal's Benito "Bloody Sword" Bonito, and the famed Treasure of Lima thought to be buried by the British trader William Thompson. Put in charge of transporting the treasure to Mexico when conflict in Lima appeared imminent, Thompson and his men could not resist the temptation of stealing the treasure. Eventually captured by the Spanish, Thompson and his first mate struck a deal to save their lives by taking their captors to find the treasure, but the duo managed to escape on Cocos, never to be seen or heard from again.
Over the years more than 300 attempts to find all of these buried treasures have come up empty. Some believe that Robert Louis Stevenson based his classic novel "Treasure Island" on Cocos and the stories that surrounded the island. At one time the German adventurer August Gissler was given one-half ownership of the island where he spent 19 years (1889 through 1908) and many thousands of dollars searching in vain for the missing Golden Madonna, a solid-gold, gem-adorned, life-size image of the Virgin Mary that was an iconic piece from the Treasure of Lima.
While the amounts and whereabouts of any treasure left on Cocos remain in question, there is no doubt that the islands' visitors introduced feral pigs, goats and rats that have wreaked havoc upon the native ecosystems.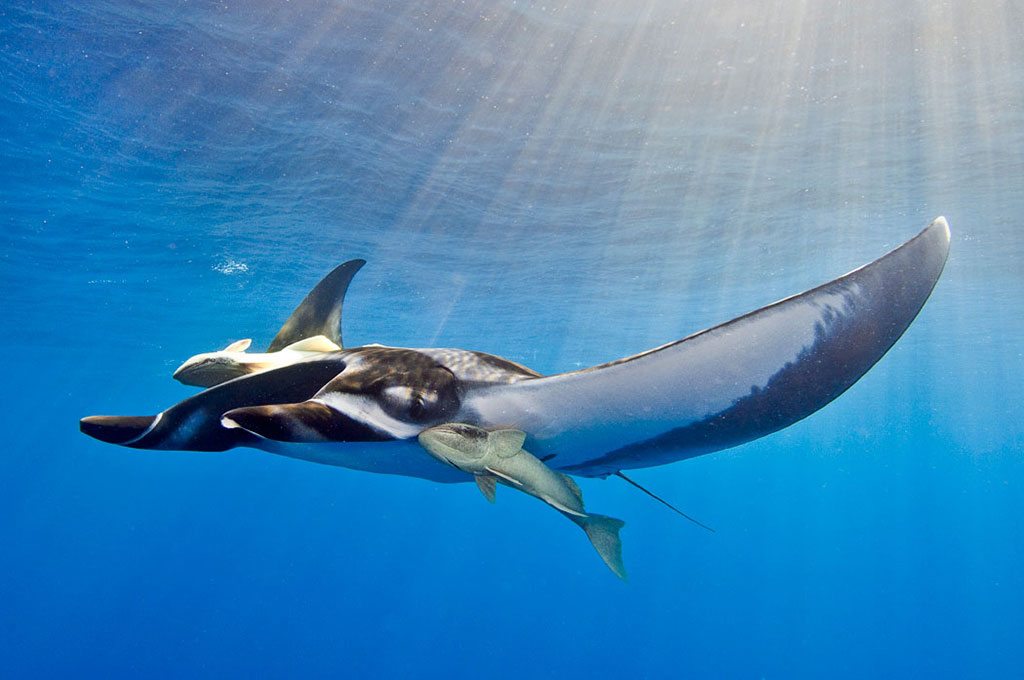 The Diving
While nondivers might think the treasure of Cocos consists of silver and gold, experienced divers insist that the island's most valuable assets are the natural treasures of the underwater world. These divers know that on an average day the diving at this mecca of megafauna is often nothing short of fantastic. What else can one say about diving with schools of hammerhead sharks, whale sharks, silky and Galapagos sharks, pods of dolphins, tunas, manta rays, sailfish, marlin and even the occasional humpback whale and killer whale pod?
The diving isn't limited to big-creature adventures, as roughly 1,400 marine organisms inhabit the waters of Cocos. With many endemic species, this group includes more than 300 species of fishes, 600 mollusks, 143 crustaceans and 32 types of corals. The best diving strategy is to listen very closely to divemasters and do as they suggest. When they think conditions at a chosen dive site are favorable for a big-animal encounter, go for it. And when the divemasters lead you on a reef dive, it will probably be more productive to focus your efforts on seeking out animals that call the rocky reefs their home.
There are sites for divers of all certification levels, but many sites present challenges due to strong currents.
Given the conditions and the island's remoteness, charter boat operators require divers to carry a safety sausage and some kind of location device that will allow you to signal your boat, and others in the area, that you need help in the event you drift away. Getting lost at sea is very unlikely to happen, especially if you do what the divemasters suggest. But having a back-up plan and the tools necessary to put in place the plan can help you relax and make your diving more fun.
The vast majority of diving is from tenders, with the various boats going to different sites, or with the divers using different entry sites or swimming in opposite directions to keep diver numbers to a minimum. This strategy helps maximize opportunities for more intimate encounters with marine life. Divers typically enjoy at least three day dives and as many as three night dives per trip. One of the trip highlights is likely to be a night dive on the leeside of Manuelita Island where you will see dozens of whitetip reef sharks on the hunt.
Nitrox is available on the various charter boats, with training available for those who are not yet nitrox certified. Much of the diving takes place between 70 and 115 feet (21 and 35 m), and nitrox is a great tool for added safety and bottom time in that depth range.
In addition to the spectacular sport diving, there is also an amazing opportunity to take a ride in a three-person submarine on a choice of dives to 300 feet (91 m) and a little more than 1,000 feet. A film and research vessel named DeepSea, the sub is operated by the Undersea Hunter group. The view is almost completely unobstructed, and there is simply no telling what you will see. The adventure takes half a day, so it will cost you a few scuba dives and some cash, but for those with an adventurous spirit, it is an opportunity not to be missed. DeepSea is based on the dive boat Argo, but will accommodate guests from other boats upon request when possible.
Mainland Adventures
Mainland Costa Rica offers visitors a wide selection of activities that can be enjoyed before or after a trip to Cocos. The country is a nature lover's dream come true, as Mother Nature has blessed this relatively small country with both abundance and variety. About 25 percent of the land is designated as parkland and reserves. Costa Rica has established 27 national parks, 32 protected zones, 58 wildlife refuges and numerous other conservation areas and reserves that visitors can enjoy.
Activities such as a variety of whitewater rafting adventures and sites such as Arenal and Poas Volcano national parks can be enjoyed on day trips from the capital city of San Jose. Additional options include multiday excursions to experience a cloud forest from the vantage point of a treetop canopy at Monteverde, world-class birding at Selva Verde, Corcovado National Park, Sevegre and other popular locales, as well as the possibility to observe nesting sea turtles at Tortuguero during nighttime tours from July through September.
Numerous cultural tours are also available in and around San Jose, as is the possibility to "shop till you drop" in several marketplaces. On those outings it is not hard to find highly recommended restaurants that serve excellent local cuisine.
Many guides are well-educated, speak excellent English, know and love their local wildlife and culture, and they take great pride in showing off the best of what Costa Rica has to offer.
Story and photos by Marty Snyderman