As a kid growing up in Seattle, I would often hear stories from friends of their great adventures in the San Juan Islands: boating, camping, fishing, kayaking, biking, hiking and telling tall tales by the beach camp fires at night. I yearned to experience these things but the islands seemed a million miles away.
For an adult, the reality is the San Juan Islands are easily accessible from Seattle and, when I finally was able to start experiencing them, they exceeded all the expectations amassed from my youth. I have made countless trips to the San Juans, never tiring of the incredible beauty, and majestic wildlife, of the islands.
The Sunny San Juans
When people think of Seattle and, by association, all of Western Washington, they think rain and gloomy weather. Well, surprise, the San Juan Islands benefit from a rain shadow created by the Olympic Mountains, reducing the amount of rainfall they receive to about half that of Seattle. On average, Seattle has about 152 sunny days per year versus 247 for the San Juan Islands, making them attractive to visitors year-round. However, late summer fog often forms and can linger into the afternoon.
Year-round temperatures are moderate thanks to a combination of the "banana belt" effect and the surrounding temperate waters. Summertime highs are around 70 degrees Fahrenheit (21 degrees Celsius), occasionally reaching into the 80s F (27-31 C) with winter lows rarely going below 40 F (5 C). Snow, infrequent in the winter, is replaced with high winds and their corresponding wind chill factor.
The San Juan Island archipelago is composed of about 170 named islands plus hundreds more rocks that are exposed at high tide. Nearly 16,000 year-round residents live on a little more than 10 percent of the islands, with most of the population concentrated on San Juan and Orcas Islands.
Geologically speaking, the islands are considerably older than the nearby mainland and were originally part of an ancient continent. Millions of years ago, tectonic shifts caused the islands to move to their current location. Several ice ages have carved out four deep waterways that surround the islands, up to 500 feet (152 m) below sea level in some areas. These deep channels — Haro Strait, the Strait of Juan de Fuca, Rosario Strait and the Strait of Georgia — allow for a large volume of water to flow around the periphery of the islands during tidal exchanges and help to flush out the relatively narrow passages between the islands and then draw in nutrient-rich waters, which support a lush marine environment. This is a mixed blessing for divers because these same currents can create challenging conditions.
Salish, Smallpox and the Pig War
The islands were originally part of an area occupied by the Central Coast Salish peoples, which included the Squamish, Halkomelem, Nooksack, Northern Straits and Klallam tribes. Early European explorers brought smallpox, which greatly reduced the population of the islands' native inhabitants by the late 1770s.
Spanish explorer Francisco de Eliza, while charting the islands in 1791, named them Isla y Archipelago de San Juan and gave Spanish names to many of the islands. Later, British and American explorers, under George Vancouver and Charles Wilkes, respectively, would replace many of the Spanish names with English ones.
The treaty of 1818 between the United States and Great Britain set the boundary between the United States and the British ruled North America along the 49th parallel but left some areas under joint control. This created many opportunities for disputes, and tension rose between the two nations. The Mexican-American War that broke out in April 1846 put tremendous demands on the U.S. military, prompting president James Polk to seek a new treaty with Great Britain in hopes of avoiding possible military conflicts with Great Britain at the same time as Mexico. This new "Oregon Treaty" kept the border at the 49th parallel but exempted Vancouver Island, which was retained by the British. This did not solve all disputes, however; as the borders through the Straits were not clearly defined, which left the San Juan Islands in an area that was to "remain free and open to both parties."
In 1859, an American settler named Lyman Cutlar shot a pig that had broken into his garden one too many times. The offending pig belonged to a British justice of the peace so the Brits wanted to bring Cutlar to trial. Cutlar sought protection from the United States. Tensions escalated between the countries and eventually each set up a garrison camp on either end of the island. Aptly named the "Pig War," the result was a bloodless standoff with no shots fired and a new agreement was reached in 1872 that gave ownership of the San Juan Islands to the United States.
The areas originally for the garrisons called "British Camp" and "American Camp" have been designated part of San Juan Island National Historical Parks and are now a main tourist attraction on the island.
Cold Water Paradise
For fair-weather divers it's hard to imagine that any place with cold water could be considered a paradise. But the nutrient-rich waters of the Salish Sea offer many rewards for adventurous divers.
The inland waters of Washington are one of the richest marine environments in the world. To enjoy them to the fullest requires planning and an understanding of how the tides and currents affect each given area, which is why it's best to dive with an experienced local dive charter company.
Visibility in the San Juan Islands can vary considerably, ranging from "not much" to 50 feet or better. I consider 20- to 30-foot visibility to be good. A rule of thumb for the entire Salish Sea is that visibility tends to be best on a flood (incoming) tide, increasing as the tide comes in and then decreasing rapidly after the tide reverses as it pulls silt-laden water back out to sea. In practice, this proves to be an overly simplified idea and only works as a starting point for predicting the times to dive for the best visibility, especially in the islands. The varying channel sizes and depths can cause water to run in directions different from the prevailing ebb or flood direction. In some cases, the current runs in the same direction regardless of the tides, making a current chart an indispensable tool for dive planning. Most divers also report they experience the best visibility on dive sites located on the outside perimeter of the islands that face the deep-water straits.
Other factors that can significantly affect visibility are seasonal plankton blooms and heavy rains that cause rivers to rise and bring runoff into the straits. Plankton blooms typically happen around mid-spring and again mid- to late summer. During a bloom, visibility can be almost zero near the surface but usually clears up once you drop below 25-30 feet (7.5-9 m). During these conditions, I look for wall dives that allow me to dive deeper than the plankton. Turn Point on Stuart Island and Kellett Wall on Henry Island are my favorites for this. Plan to bring a dive light for deeper dives.
OK, so if the visibility is not always so great, you ask, just what are the rewards for diving this area? Well, this particular "divers' paradise" is home invertebrates and more than 250 fish species. Add a heaping helping of kelp beds, a sprinkling of marine mammals and some breathtaking scenery. There are no swaying palm trees in the San Juans, but it's paradise just the same.
When conditions are good, the kaleidoscope of colors is breathtaking.
Colorful sea stars, nudibranchs, urchins and anemones abound. Commonly encountered fish include rockfish, greenlings, cabazon, lingcod, sculpins and ratfish. Wolf eels (with a face only a mother could love) can be found in certain areas, as well, and if you are really lucky, you might bump into a giant pacific octopus, the largest species in the world. Good sites for colorful dive experience include Strawberry Island (West Wall), Long Island (West Wall), whale rocks and Peavine Pass.
Another consideration when diving in these current-swept waters is how to get in more than one dive a day without sitting around for hours waiting for the next slack tide. Although it usually requires a little compromise on marine life density and visibility, there are areas that provide a lee from the current that will allow for diving, albeit in a smaller area than might be ideal, even when other sites would be blown out by the current. My favorite of these types of "fall-back" sites is Bell Island, which sits in a channel between the west ends of Shaw and Orcas islands. It's shallow, making it ideal for a second dive and, regardless of current direction, I have found you can always dive on one side or the other. In really strong tidal exchanges the area in the lee of the current might be fairly small but there is plenty of macro life to keep one entertained.
On your way to the various dive sites you may well encounter seals, stellar sea lions, the elusive minke whale, Dahl's porpoise, harbor porpoise, pacific white-sided dolphins and one of the three resident pods of orcas for which the San Juan Islands are so famous.
Something for Everyone
The San Juan Islands offers something for just about everyone, even nondivers. Above water the scenery includes rolling pastures to thick forests, beaches with sand or pebbles, rugged coastline up to 2,400-foot-high (727 m) Mount Constitution and quaint towns with shops, restaurants and history museums. Wildlife abounds here and you are likely to see ducks, deer, swans, herons, hawks, eagles, foxes and more.
Nondiving activities include biking, boating, beach combing, tide pooling, fishing, kayaking and whale watching. Art lovers will appreciate a collection of galleries found on the larger islands. Want more to do? How about a visit to the lavender or alpaca farms, or check out the spas and yoga studios, or maybe take a lighthouse tour. Birders can search out nearly 300 different species of birds that use the islands and surrounding habitat for breeding and nesting as well as fall and winter migration. And, if you find yourself on Orcas Island in October be sure to check out the world-famous Doe Bay Fest, "a four-day grassroots festival featuring music, food, drink, camping and activities in the unique setting of the Doe Bay Resort and Retreat."
The enchanting beauty of the islands has made them one of the most spectacular places in the world to sea kayak. Ten of the islands are state marine parks, with some only accessible to kayakers via the Cascadia Marine Trail.
Lodging ranges from elegant and romantic to camping and rustic. Options include Posh Rosario and Roche Harbor Resorts, rustic resorts like West Beach and Snug Harbor, private cabins, B&Bs, and simple hotels.
For nature lovers, car camping sites are available on San Juan, Orcas and Lopez islands. Many islands have camping that can be accessed by private boat or water taxi, including Stuart, Matia, Sucia, Patos, Jones, James and Lopez islands.
Dining options are as plentiful as the lodging choices. From fine dining to brewpubs, you will find something to suit your pallet. Many establishments serve locally produced food, including oysters and fresh fish.
Surrounded by sheltered waters and dramatic coastlines and blessed with a pleasant climate, varied wildlife life, and exceptional views, the San Juan Islands has every right to be considered a divers' paradise.
Story and photos by Chris Huss
---
SAN JUAN ISLANDS FACTS & FIGURES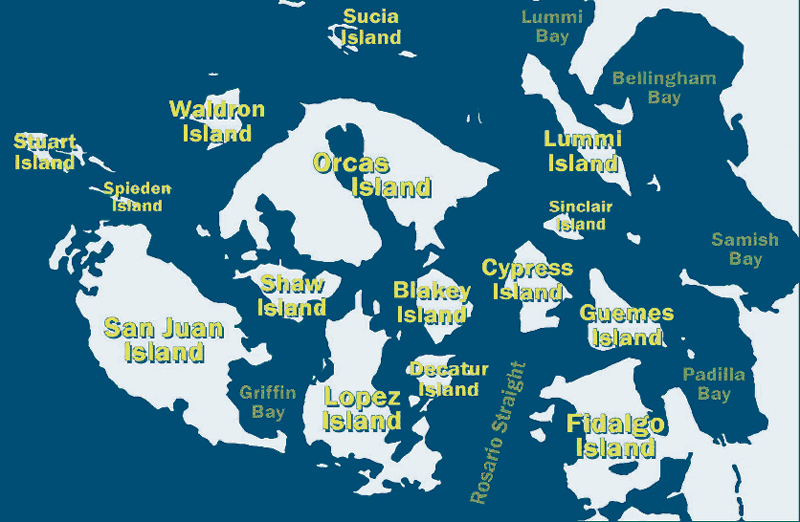 Location: The San Juan Islands are located within the Salish Sea in the Northwestern corner of the contiguous United States.
Size: The San Juan archipelago is composed of about 170 named islands plus several hundred more rocks that are exposed at mean high tide and have a combined shoreline of nearly 480 miles (768 km) with a size of 174 square miles (451 sq km). The four largest islands are Orcas Islands at 57.7 square miles (149 sq km); San Juan Island at 55.5 square miles (144 sq km); Lopez Island at 29.6 square miles (77 sq km); and Shaw Island at 8.6 square miles (22 sq km).
Population: 15,768 per 2010 census.
Time: U.S. Pacific Standard time for all of Washington is GMT/UTC minus 8 hours. Daylight saving time is GMT/UTC minus 13 hours.
Getting There:
By Air: Five airlines provide service to the San Juan Islands from various cities within Washington state. Three offer daily scheduled service: Kenmore Air, Friday Harbor Seaplanes and San Juan Airlines. The other two, Point to Point Air and Westwind Aviation offer on-demand charter services. Kenmore Air and Friday Harbor Seaplanes also offer shuttle services from Seattle-Tacoma International airport to their terminals.
By Ferry: The Washington State Ferry system provides daily service for both passengers and vehicles from Anacortes to four of the main islands: Lopez, Shaw, Orcas and San Juan islands. Two private companies offer passenger-only service to Friday Harbor: the San Juan Clipper from Seattle (summer season only) and Puget Sound Express from Port Townsend.
By Private Boat: The San Juan Islands have nine marinas, 12 marine parks with mooring buoys, 14 county docks and endless options for staying on "the hook."
Getting around: Transportation options vary with each island and by the season. The two largest, and most visited islands, Orcas and San Juan islands have taxi services and offer vehicles, mopeds, motorcycles and bikes for rent. Lopez offers bike rentals.
Hyperbaric Chamber: A hyperbaric chamber is located at Virginia Mason Hospital in Seattle, 206-583-6543.
Tourist Info:
San Juan Islands Visitors Bureau, visitsanjuans.com
San Juan Island Chamber of Commerce, sanjuanisland.org
All Trips San Juan Islands, allsanjuanislands.com
Dive Operations:
Anacortes
Diver's Dream Charters
lujacsquest.com
360-202-0076
Anacortes Diving & Supply
anacortesdiving.com
360-293-2070
Bellingham
Washington Divers
washingtondivers.net
360-676-8029