Here's a look at what you'll find between the covers of the January/February 2017 issue.
---
In celebration of Dive Training's 25th anniversary, we've created an online library of every Dive Training magazine cover ever printed over the years, vintage ads, and a collection of articles that have proven to be game-changers in the dive industry.
---
FEATURES
Romancing the Past: Treasure Hunting and Underwater Archaeology
By Robert N. Rossier
Deepest Dive First? The History and Science Behind How We Plan Our Dives
By Alex Brylske
Georgia's 'Live Bottom' Jewel: Gray's Reef National Marine Sanctuary
By Michelle Riley
---
COMMENTARY
Editorial: What a WonderFULL World
By Cathryn Castle Garcia
Editorial: On 25 Years
By Mark Young
Say Cheez!
Dive Observer: World Leaders Establish Earth's Largest Marine Protected Area
By Gene Gentrup
Barotrauma, Buoyancy and Boating Laws
By Robert N. Rossier
---
DIVE EXPLORATION
Dive Geo: Exploring Bonaire: An Arid Oasis for Divers and Adventurers
By Ruth and Barry Guimbellot
Passport: Dive travel deals from all over
Compiled by Gene Gentrup
Diving USA: Dive travel opportunities across America
---
EVERY MONTH
Scuba Skills: When the Diving's Done: Tips for Disassembling a Scuba Unit
By Barry and Ruth Guimbellot
Instructor Tips: They're All Like That: Near Misses and Normalization
By Robert N. Rossier
Deep Connections: On Staying Active as a Diver
By JMarty Snyderman
Dive Shop
Compiled by Gene Gentrup
What's That?: Mexico's Sea of Cortez Has More Than Mantas: The Smoothtail Mobula, Cortez Stingray and Bullseye Electric Ray
By Marty Snyderman
Behind the Lens: Imagine That!
By Marty Snyderman
Premier Classifieds
Dive Training Classifieds
Dive Training Quiz
Final Check: What It Looks Like When…Your Mask Is a Perfect Fit
By Cathryn Castle Garcia
---
Want your favorite scuba articles with you wherever you go? Download the Dive Training Magazine app!
---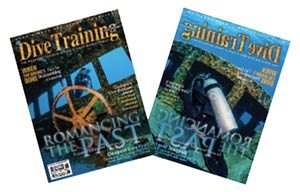 The Covers
By Barry & Ruth Guimbellot
This month's cover feature, "Romancing the Past: Treasure Hunting and Underwater Archaeology," views the underwater world as a time capsule of hidden stories and buried treasure
We've been publishing Dive Training magazine for 25 years now. In celebration of our "Silver" anniversary, we've made a virtual library of every cover – front and reverse – from each year of the last two and a half decades.