In this issue: 60 years since Sea Hunt, protecting whales, an alligator attack, Puerto Galera and Dumaguete and more. Explore the May/June 2018 issue below.
Bring every issue of your favorite scuba diving magazine with you wherever you go! Download the free Dive Training Magazine app:
Want to read this issue on your desktop? Access the web version here (requires a digital subscription to access): https://dtmag.com/read-the-may-june-2018-issue/
---
FEATURES
'Must Sea TV' For 60 Years, Diving and Television Have Been the Best of Buddies
By Greg Laslo
It's been 60 years since a guy starred in a television show wearing a twin-hose regulator and a silver wet suit, and inspired two generations of scuba divers. For some of diving's old-timers, all you have to do is mention Mike Nelson and Sea Hunt, and they're back in their childhood, swimming alongside the underwater investigator, solving crimes and wrestling octopus. In celebration of actor Lloyd Bridges' lasting imprint on the diving industry, we're reprinting this feature, which originally appeared in the 2008 issue of Dive Training.
No Small Problems for Big Whales: How NOAA is Addressing the Challenges of Cetacean Safety
By Elizabeth Weinberg
Whales are the largest animals in the sea, yet despite their size they're among its most threatened and endangered inhabitants. The threats come from various sources, with entanglement in "ghost" fishing gear and collisions with ships ranking among the greatest risks. Here we'll present a two-part feature article on efforts by the National Oceanic and Atmospheric Association (NOAA) to learn about and better protect these magnificent creatures.
From the Jaws of the Gator: Emergency Training and the Laws of Survival
By Robert N. Rossier
As humans we are ill-equipped to survive in the world of water, and must therefore adapt ourselves through the application of technology. But that technology only goes so far. For divers to really be prepared for the deep, we need to have our heads on straight as well. In this article the author examines a real-life survival story of an alligator attack on a young girl, and how her quick thinking provided her an opportunity to escape with only minor injuries.
---
COMMENTARY
Editorial: Being Like Mike
By Alex Brylske
Buddy Lines
Say Cheez
Dive Observer: A Post-Hurricane Progress Report from the US Virgin Islands
By Tracy Young
No Dumb Questions: Insuring Your Scuba Travel, Concerns About Gloves and Gauges
By Robert N. Rossier
---
DIVE EXPLORATION
Dive Geo: A Taste of the Philippines: Exploring Puerto Galera and Dumaguete
By Cathryn Castle Garcia and Gui Garcia
Destination News: What's happening at diving hotspots
Compiled by Betty Orr
Passport: Dive travel deals from all over
Compiled by Betty Orr
Dive USA: Highlighting North American diving
Compiled by Betty Orr
---
EVERY MONTH
Scuba Skills: "Have a Seat, Please" The Controlled Seated Entry
By Barry and Ruth Guimbellot
Instructor Tips: Thought Process: Learning How to Improve Your Leadership Decision-Making
By Greg Laslo
Always Learning: In the Zone: What It Means to Dive in My Comfort Zone
By Marty Snyderman
Dive Shop
Compiled by Betty Orr
What's That?: In a Silvery Sea: Barracudas and Sennets
By Marty Snyderman
Behind the Lens: A Whale of a Shot
By Marty Snyderman
Premier Classifieds
Dive Training Classifieds
Dive Training Quiz
Final Check: What It Looks Like When…You Avoid Kicking Up A Cloud
By Barry and Ruth Guimbellot
---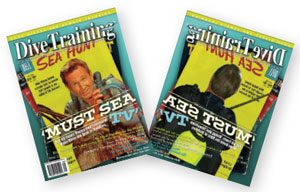 The Covers
Originally published in Dive Training in 2008, celebrating the 50th anniversary of the iconic television series, "Sea Hunt." We're running them again to honor the show's 60th anniversary.
---
We've been publishing Dive Training magazine for over 25 years now. In celebration of our "Silver" anniversary, we've made a virtual library of every cover – front and reverse – from each year of the last two and a half decades.
SaveSave
SaveSave
SaveSaveSaveSave