Sandwiched between the high-rise glitz of Cancun and the ancient Mayan ruins of Tulum along Mexico's Yucatan peninsula, and atop a magical underground river sits the marvelous Riviera Maya. Just a few years ago it was a collection of sleepy fishing villages dotting the Caribbean coast. Today it's come alive as an international vacation destination for scuba divers, sun lovers, naturalists and explorers.
Beginning 18 miles (29 km) south of the Cancun International Airport and extending south to Punta Allen, the region features 75 miles (120 km) of white-sand beaches and the world's second-largest barrier reef system. It holds many of Mexico's most significant archaeological sites, which were once home to the ancient and mysterious Mayan people.
Mayan History and Mystery
Originating in the Yucatan around 2600 B.C., the Maya are probably the best-known of the classical civilizations of Mesoamerica. Rising to prominence around A.D. 250 in present-day southern Mexico, the Mayan empire once covered Belize, El Salvador, Guatemala and Honduras. The Maya established an advanced civilization, building elaborate ceremonial structures including temple pyramids, palaces and observatories — all without metal tools or beasts of burden. In addition to their impressive earthly accomplishments, the Maya also turned their gaze skyward, tracking celestial movements and the passage of time to create sophisticated calendars — including calculating the solar year at 365.242 days. Their hieroglyphic language is still pondered by modern scholars.
Around 300 B.C. the Maya adopted a hierarchical system of government ruled by nobles and kings who sought guidance from the heavens. Warring and ritual sacrifice were practiced as ways of pleasing the gods, for whom the Maya depended upon for a plentiful corn harvest.
The Maya are regarded as having developed an early version of basketball, called Pok-ta-pok. The game was played in a large stone amphitheater. Two teams competed on a rectangular field. The object of the game appears to have been to throw a ball made of natural rubber through a vertical stone hoop that was positioned about 20 feet (6 m) above the ground. Competition was fierce, as the losing team was routinely sacrificed to the gods. (Some scholars theorize that the winning team was the one sacrificed. Regardless of which version is correct, the game was definitely one a player could "lose his head" over.)
The Maya struggled with failing crops and warfare between city-states for several centuries until, mysteriously, around A.D. 900 they disappeared from the radar screen. Their once glorious temples and palaces had started to crumble and were covered by thick jungle growth by the time the Spanish conquistadors arrived in the late 16th century. The Spanish controlled the region for 300 years.
Today's Mayan descendants number about 6 million, making them the largest single block of indigenous peoples north of Peru. Some modern Maya live much as their ancestors did centuries ago, working as farmers and craftsmen. The Mayan language is still widely spoken throughout the Riviera Maya region.
Coral Reefs and Cenotes
Just a short boat ride offshore of the Riviera Maya is the second-largest coral reef system in the world. It is home to colorful corals, sea fans and sponges, and countless numbers of reef fishes. Spur-and-groove reefs start at a depth of 25 feet (7.5 m) and most reefs are above a depth of 100 feet (30 m). The relatively shallow depths, combined with water temperatures about 84 degrees Fahrenheit (29 degrees Celsius) and visibility averaging in the 60- to 80-foot (18- to 25-m) range, make the Riviera Maya a perfect destination for novice and experienced divers alike.
Because strong currents often prevail, drift diving is a common practice, which allows divers to cover hundreds of yards of reef in a single dive. On a typical drift dive, the group enters with a guide who carries a surface float. The boat follows the float, so there's no need for navigation; you simply go with the flow. Another benefit: The surface float doubles as a deco line for a safety stop at the end of the dive.
When diving on area reefs, especially near Akumal — Mayan for "place of the turtles" — divers are almost guaranteed to see sizable loggerhead or green sea turtles. Sightings of bull sharks and hammerheads are common, too, especially in winter months. The same is true of stingrays, which are known to use Riviera Maya reefs as winter mating grounds.
While the reef diving is worth the trip, in recent years the Riviera Maya has become known as "the" spot for the underwater geological wonder known as cenote (see-NO-tay) diving. Deep under the Yucatan jungle lies a complex network of underground rivers, covered by a limestone "ceiling" thick with jungle growth. In some areas, as the jungle grew denser and the limestone became more porous, the ceiling collapsed, exposing the river below. Webster's defines a cenote as "a deep sinkhole in limestone with a pool at the bottom…" but to describe a cenote as a sinkhole is like calling the Grand Canyon a groove in the landscape.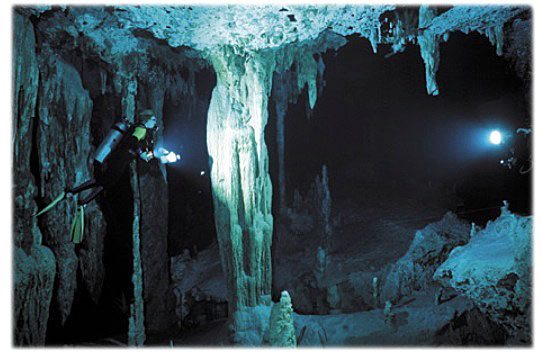 Imagine yourself weightless, floating through a surreal, terrestrial landscape that began forming more than 100 million years ago when the Yucatan peninsula was covered by seawater. Around you are stalactites and stalagmites and gigantic columns carved by several ice ages' worth of changing sea levels and countless drips of carbonic acid falling from the limestone ceiling. Shafts of light beam down from the cenote opening. Thick vines reach down into the water and lily pads float at the surface, reminding you that you are not suspended in air; you're floating in water so clear that your brain can't comprehend it as liquid — and you're underneath a jungle. It's no wonder that the ancient Mayans considered the cenotes to be sacred entrances to the underworld. The experience is indeed otherworldly.
Mexico's Yucatan peninsula has hundreds of miles of underground rivers, including the three largest underwater cave systems in the world: Sistema Ox Bel Ha, Sistema Nohoch Nah Chich and Sistema dos Ojos. Research divers from Grupo de Exploracion Ox Bel Ha have explored more than 60 miles (18 km) of submerged caverns and 57 interconnecting cenotes, including three freshwater drainage vents that open into the Caribbean Sea. The group has discovered human remains and pottery dating to a period when the cave was dry, an estimated 8,000 to 9,000 years ago. The cenotes, while offering the region its supply of fresh water, hold significant archaeological and biological treasures, too, many of which are yet to be discovered.
One needn't be a scientist or technical diver to explore the world of cenote diving. In fact, cenote diving is available to Open Water certified divers with good buoyancy skills; some sites are even accessible to snorkelers. All cenote dives are guided tours. The Mexican government issues credentials to certified cenote guides in an effort to protect the fragile formations. Cenote specialty courses, and cavern- and cave-diving specialties are offered at many local dive centers.
Most cenote tours include an adventurous ride through the jungle to the cenote opening. (Wear protective clothing to avoid ravenous mosquitoes. Avoid using insect repellent or sunscreen, as it fouls the water.) The descent into a cenote usually involves climbing down a ladder or set of stairs. The 76-degree-F (24-degree-C) water feels refreshing after a sweaty trek through the steamy jungle, but a wet suit is recommended, since you'll cool off quickly once underwater. Divers follow the guide along a trail permanently marked with line. When inside a cenote, divers move in slow motion, using a bent-kneed cave diver's kick to avoid stirring up silt from the bottom or accidentally kicking a formation. Depths rarely exceed 30 feet (10 m).
My favorite cenote experience came when I met my first halocline — the area where fresh and salt water mix — which creates a shimmering layer of water that appears to have a jellylike consistency. When you swim through it, everything goes blurry, as if you're diving inside a lava lamp. It took an already surreal experience to a psychedelic level.
Modern Attractions and Timeless Treasures
No matter which water you play in — salt or fresh — the best thing about coming to the surface is that you're in Mexico, the land of beautiful beaches, cold Coronas and lively mariachi music. It's also the land of options, which makes the Riviera Maya an excellent choice for divers and nondivers alike, and families, too. Accommodations range from the action-packed all-inclusives that line the beach along Playacar, to quaint hotels and guesthouses in Playa del Carmen to resorts and condos that dot the shoreline heading south to Puerto Aventuras, Akumal and Tulum.
Playa del Carmen's bustling Fifth Avenue is the nexus of shopping, dining and nightlife.
At Yaxche Maya Cuisine restaurant, chef Ruben Lopez serves up traditional Mayan dishes with modern flair. The Riviera Maya's international appeal is apparent in its restaurant choices. While strolling the Playa ("the Playground"), one can sample authentic Mexican and Yucatecan dishes, or choose from German, Italian or Argentinean restaurants. There's even a sushi bar, an English-style pub, and a T.G.I. Friday's. A visit to La Tequileria offers a mind-boggling menu of top-shelf tequila, including some handcrafted blue agave distillates not available outside of Mexico.
Duty-free shopping and the merchants' willingness to bargain lure many visitors into local stores, where silver jewelry, perfume, clothing and Mexican handicrafts are hawked at attractive prices.
Fortunately, the Riviera Maya has much more to offer than a perpetual spring break party atmosphere.
Just south of Playa del Carmen is an ecoarchaeological park called Xcaret (ish-CAR-et), which features 25 acres (10 hectares) of natural waterfalls, an underground river, animal attractions and a dolphin encounter program. The site also includes Mayan ruins. A spectacular nightly show highlights traditional Mayan rituals and Mexican culture.
Farther south is Xel-Ha' (shell-HA), an aquariumlike ecopark famous for its lagoons and Mayan ruins.
Aktun Chen Natural Park is the site of a mammoth dry cave filled with stalactites and stalagmites. A visit to this attraction is a great way to offer nondivers a glimpse of what cenote diving is like, minus the water. A guide leads visitors through the labyrinth while imparting interesting details about how it was formed. The park is home to a variety of local wildlife, including spider monkeys, white-tailed deer and a variety of parrots.
Pak Chen is a Mayan community of about 20 families living a village lifestyle that reflects age-old traditions. Visitors can explore their jungle wilderness and enjoy a traditional Mayan meal.
A trip to the Riviera Maya wouldn't be complete without a trip back in time to the ancient Mayan ruins. The area is one of the world's richest archaeological zones, with more ancient sites than all of Egypt. At Tulum, the main temple, "El Castillo" sits on a 45-foot (14-m) limestone bluff and offers a breathtaking view of the coastline. It once functioned as an aid to navigation, helping Mayan fishermen guide their canoes through a break in the reef when returning to the beach. The ruins at Coba' include a beautifully restored ball court. Muyil is one of the larger sites on the east coast. Its main pyramid, Nohuch Mul, rises to 138 feet (42 m) and is the tallest ancient construction in the Yucatan.
Entrance fees to the sites are nominal. Guides direct visitors through the ruins and explain their significance. Whichever sites you visit, be sure to dress comfortably, wear sturdy walking shoes and bring plenty of drinking water.
Sustainable Tourism
Along with the Riviera Maya's growth has come the challenge of protecting its precious natural resources. Government officials, tourism operators and hoteliers, educators and members of the marine community all are working together to develop and implement environmentally sensitive development plans.
Its waters are protected as marine reserves with moorings installed at popular dive sites. Most dive centers are members of the Riviera Maya Association of Dive and Watersport Operators (APSA) and remind divers to practice good buoyancy control and avoid touching the reef. And recent government programs to safeguard the cenotes will soon be in place.
Fifteen miles south of Tulum lies the Sian Ka'an Biosphere Reserve, one of the largest protected areas in Mexico and a UNESCO World Heritage site. Its name means, "where the sky was born." The preserve includes examples of all ecosystems found in the Yucatan peninsula, including dry and wet forest, beaches, dunes, mangroves, swamps, grasslands, hardwoods, hammocks, freshwater and saltwater lagoons, and a 62-mile (99-km) stretch of Great Maya reef. Visitors can experience nature's bounty without any Disneyesque trappings or T-shirt shops.
With its beautiful reefs and fascinating cenotes, ancient ruins and abundant natural resources, it's easy to understand why the Riviera Maya is a top destination for divers and vacationers from all over the world. With an eye toward preservation, it will remain a favorite destination to return to year after year.
By Cathryn Castle