Here's a look at what you'll find between the covers of the November/December 2017 issue.
---
Bring every issue of your favorite scuba diving magazine with you wherever you go! Download the free Dive Training Magazine app:
Want to read this issue on your desktop? Access the web version here (requires a digital subscription to access): http://www.mazdigital.com/webreader/nov-dec-2017
---
FEATURES
Knots or Not: Security on a Shoestring
By Robert N. Rossier
Learning to tie good knots isn't just for divers. After all, everybody has to learn to tie his or her shoes. But the benefits extend to almost all forms of sport and adventure. And as important as tying a good knot is to the average recreational diver, it becomes critical when we advance to specialties like ice diving, cave diving, cavern diving or search and recovery. Fortunately, learning to tie knots isn't rocket science, but it does take patience and practice.
Parks With a Purpose: America's Ocean Parks
By Elizabeth Moore
What most Americans, even many recreational scuba divers, don't realize is that more than 1,200 underwater parks exist in our ocean and Great Lakes, including the National Marine Sanctuary System. There are ocean parks that function as marine reserves to protect fish and shellfish, but many manage multiple uses in their boundaries. Nearly all of them allow recreational use, including diving.
A Growing Concern: Examining the Life Stages of Reef Fishes
By Karen and Ian Stewart
Have you ever been on a dive where you have excitedly "discovered" what you thought was a new species of fish only to later realize that it was really just the juvenile version of a very familiar adult? In some species, the juveniles are completely unrecognizable when compared to what they become later in life. The changes that occur as a fish transitions to adulthood can range from behavioral and diet to physical, including not only shape and color but also gender.
---
COMMENTARY
Editorial: Don't Pass Up Paradise
By Mark Young
Buddy Lines
Say Cheez
Dive Observer: 2017 Atlantic Hurricane Season Wreaks Havoc, But Destinations Show Resilience as Recovery Efforts Continue
By Betty Orr
No Dumb Questions: Flying After Diving, Rinse Bucket Infection Risk and Handling the Tank Valve
By Robert N. Rossier
---
DIVE EXPLORATION
Dive Geo: Going Green in the Deep Blue: Exploring the Honduran Island of Guanaja
By Lois Hatcher
Destination News: Hurricane recovery update
Compiled by Betty Orr
Passport: Dive travel deals from all over
Compiled by Betty Orr
---
EVERY MONTH
Scuba Skills: Regular Care for Your Regulator: Establishing a "Rinse and Repeat" Routine
By Barry and Ruth Guimbellot
Instructor Tips: "What would you do?" Asking Questions that Teach
By Robert N. Rossier
Always Learning: Navigating the Winds of Fate: A Scuba Diver's Sailing Lessons
By Marty Snyderman
Dive Shop
Compiled by Betty Orr
What's That?: The Undersea Underground: The Hidden World of Burrowing Creatures
By Marty Snyderman
Behind the Lens: "New School" Cropping
By Marty Snyderman
Premier Classifieds
Dive Training Classifieds
Dive Training Quiz
Final Check: What It Looks Like When…Your Bite is Just Right
By Barry and Ruth Guimbellot
---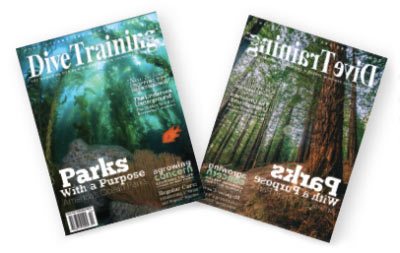 The Covers
America is graced with parks. The first formally established parks to protect wildlife and habitat may date from the 1830s. What most Americans, even many recreational scuba divers, don't realize is that more than 1,200 underwater parks exist in our oceans and Great Lakes. This month's cover feature, "Parks With a Purpose: America's Ocean Parks" takes us on a tour of our nation's underwater parks and sanctuaries.
---
We've been publishing Dive Training magazine for over 25 years now. In celebration of our "Silver" anniversary, we've made a virtual library of every cover – front and reverse – from each year of the last two and a half decades.
SaveSave