My first dive with a camera in the Philippine Sea ended abruptly. As I "energetically" handed my flooded housing to the bangka (outrigger-type boat) crew I already knew it was too late. My camera had just taken a royal bath in a quarter cup of seawater, its internal parts melting. My trip was off to a dubious start on the island of Mindoro.
This was my first trip to the Philippine Islands and I had some concerns about what I'd find both above and below the waves. As it turns out, despite the costly new door stop that I now owned, the experience was quite delightful and before our week was over we were already planning our next trip.
Volcanic Islands, Volatile History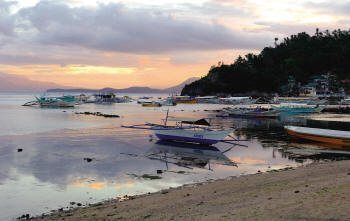 More than 7,100 islands make up the Republic of the Philippines, in the Western Pacific Ocean. To the north lies Taiwan with Indonesia bringing up the south. Volcanic topography rules the landmasses with nearly 40 volcanoes taking up residence throughout the archipelago. It is a very mountainous landscape with Mount Apo almost reaching 9,700 feet (2,939 m) on Mindanao Island. Well over a thousand species of animals call the hilly landscape home joined by 10,000 species of plants. Despite the slash-and-burn agriculture techniques and more than 85 million people, nearly 30 percent of the rain forest still exists.
It's possible that the first human inhabitants came over from the Asian mainland some 250,000 years ago. Indonesian and Malayan immigrants consistently arrived over the centuries. In the late 14th century, the Makdum arrived and set up an Islamic influence in some of the southernmost islands. Sporadic outbreaks of Islamic extremism have flared in the south in recent years. In 1521, Ferdinand Magellan of Spain arrived and claimed the islands as Spanish territory. He ended up meeting his maker here as a number of the locals weren't too happy with the idea of Spanish colonialism. Twenty-two years later another Spanish gentleman by the name of Villalobos splashed ashore and named the islands Filipinas after King Philip II of Spain. Colonists began to arrive in 1565 and in less than two decades the country was solidly under Spanish control with the exception of the Muslim-controlled southern Sulu archipelago.
As is so often the case in human events, a Filipino independence began to swell in the 19th century and with the impeccable timing of the Spanish-American war of 1898, a call to arms rang throughout the land. Native Filipinos fought side by side with American troops and the Spanish were defeated. The Filipinos expecting independence were quite taken aback when the United States decided to purchase the islands from Spain instead. By 1935, the United States backed a provisional independent government and the Philippine Commonwealth was born. The breakout of World War II put the kabash on any more thoughts of independence with the invasion of the islands by Japanese forces in early 1942.
After a bitter Japanese occupation and subsequent reinvasion by U.S. forces in 1944, the tumultuous Philippine Islands finally achieved full independence in 1946. Their troubles continued with a dictator (Ferdinand Marcos and his shoe-hoarding wife) as well as several unstable governments (Cory Aquino and Fidel Ramos) fending off one coup after another. The current president leads the hopeful Philippines into the 21st century.
With so much foreign influence the highly mixed culture is no surprise. There are more than 60 recognized ethnic groups scattered around the archipelago. While a few isolated native tribes still hold on to ancient ways, most of the islands have adopted a decidedly Western way of life. More than 90 percent of the population list Christian faith as their choice. More than 80 dialects are spoken in the Philippines, with modified Tagalog and English as the main languages. Foods share a decidedly Chinese, Malaysian and Spanish taste with rice a mainstay at every meal.
The Diving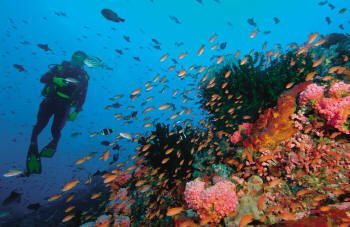 As I mentioned earlier, I'd traveled to the Philippines with some concerns about what I might find. The Philippines have been a major supplier of tropical fish for the aquarium trade and wholesale dynamiting of reefs waged for years. However, recent conservation efforts by environmental groups, along with dive center support, have had many positive outcomes and the idea of sustainable businesses is taking root.
One such area is Puerto Galera on the island of Mindoro. There are dozens of dive sites within a few minutes of most of the resorts in this area, and there are plenty of sites for divers of all experience levels. Due to tidal exchanges and the numerous channels and cuts, hitching a ride on currents is as simple as telling your dive guide to sign you up. One particularly high-voltage drift is called "the washing machine" and if you think you've been in fast adrenalin-pumping currents before — well, hold on to your facemask. Off Verde Island, this dive requires an hour bangka ride from the resorts. The guides are careful only to allow experienced divers on these excursions and it's definitely not for everyone, but it's worth checking out.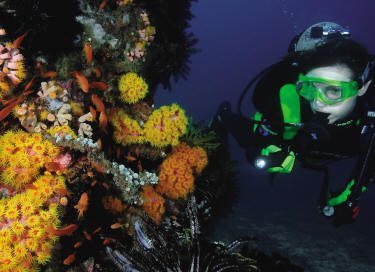 Since this is the Western Pacific, the subtidal zone is chock full of crinoids and soft coral. Invertebrates pack the reef and everything from tiny ghost shrimp to gigantic gorgonians crowd together in an explosion of colors. The resident fish populations are vibrant and numerous with more than a few lionfish, trumpetfish, fusiliers, and trevally darting by. On virtually every dive someone sees turtles, cuttlefish, king-sized frogfish, with an occasional sea snake thrown in for variety. The anthias are particularly colorful with schools big enough to cut your visibility down to a mere 2 feet of reddish-orange for quite some time as they swim by.
One particular spot only five minutes from where the boats go out has a collection of small beat-up sunken wrecks. Known as the "Sabang Wrecks," it is one of the most popular dive sites in the area. While the hulks themselves are uninspiring, the assemblage of life is staggering. You're pretty much guaranteed to see at least one critter worth chatting over at the bar that evening. I discovered frogfish, anemones, juvenile scorpionfish, lionfish, octopus, nudibranchs, gobies, batfish — all on just one dive in an area the size of an SUV. Not only were the wrecks hot, but the biggest eel I've ever seen in tropical waters threaded through a coral head in a mere 15 feet (5 m) of water.
Another sought-after dive area is called "Hole in the Wall." It is marked with an actual hole in the reef at a depth of about 20 feet (6 m), just big enough to allow a scuba diver to swim through. Large schools of big trevally, snappers and sweetlips are often found hanging out in the current. There are also a number of cuts and valleys that offer divers a calm place to mill about. It's no surprise that a place called Shark Cave contains a full-time assembly of white tip sharks. Manta rays, eagle rays and the occasional pelagic shark are often seen at the edge of the reef here as well.
Along Dungon Beach/Wall — West Escarceo, some rather large cuttlefish and squid routinely make appearances. Along this stretch I encountered crinoids that seemed determined to hitch a ride on a passing diver. If you even came close to one, they'd latch on and hunker down for the duration. Crinoids may look like a feathery plant at first, but when you see them swimming it's one of the most alien-looking life-forms in the ocean.
As I mentioned, Verde Island is an excellent diving location; well worth the longer boat ride and all-day excursion. There is some excellent wall diving, with the chance to see some big marine life. But even if the larger open-ocean critters don't show, the walls are buzzing with activity. The biggest school of adolescent triggerfish I've ever seen engulfed us for several minutes; with a follow-up of several hundred tightly packed butterflyfish poking into every nook and cranny right behind them. Black-spotted morays and big scorpionfish nuzzled against the branches of soft corals. In some areas the entire wall seemed to be moving from the profusion of life.
Touring and Dining
While the reef and fish life were abundant and the diving proved to be far more exciting than I'd anticipated, there was no shortage of topside activities and destinations for those off-gassing intervals. Puerto Galera has a number of good beaches for relaxing and plenty of activities including hiking, kayaking, golfing, and a host of tours. A nondiver will have no problem filling his or her day with interesting things to do. Or not do. I recommend getting a stress-relieving massage by one of the area's highly skilled therapists. Even a causal stroll through town is an enjoyable experience. A vigorous walk up the hill to the old lighthouse offers a fantastic vista of other islands, a nice cool breeze, and a bird's-eye view of the various tidal currents that provide a thrill ride for divers.
The dining experience is quite eclectic. Traditional dishes include meat and vegetables cooked with vinegar and garlic, grilled grouper, meat stews and soups. Side dishes may include unripened papaya, fermented fish, and crispy pigskin (yeah, had to pass on the last two). Desserts usually have fruit or sweet corn associated with them and they're quite good. Since more emphasis has been placed on tourism in recent years, continental European and exotic Asian fine restaurants have emerged. Many have blended traditional island fare with their menus. While "fast food" is available in the bigger cities, smaller towns like Sabang have not been invaded yet so the eating is still very time-honored. Some of the resorts have outstanding restaurants associated with them.
I admit I had some pretrip concerns surrounding my travels to the Philippine Islands. After all, they are regularly named on the U.S. State Department's travel advisory list and they've got their fair share of man-made environmental woes. But it's a very big country. Much the same way that natural disasters or riots on one coast of the United States don't necessarily affect the opposite coast, the same is true for the Philippines. Certain areas in the southern islands are politically charged and tourists would do well to avoid them, but that doesn't mean the entire country poses a travel risk. As with travel to any destination foreign or domestic, use common sense.
With very limited assets, some forward-thinking people, both at a national and local level, are making headway toward a more sustainable use of resources. By visiting the Philippines and enjoying its natural beauty above and below the water, perhaps I helped feed the eco-tourism movement and foster the Philippines' desire to protect its fragile beauty. I am definitely planning a return visit soon.
Story and Photography by Joseph C. Dovala