When you first arrive on St. Croix, you'll immediately notice the warmth and beauty of an exotic tropical destination. It's like you're a million miles from the familiarity of everyday life back home. Yes, this is paradise. And when you notice that there's no miles-long line to clear customs and immigration — and that folks are saying hello and welcoming you in English? Well, this is when you start to feel like your "exotic" destination just got a little bit more fabulous. You're in familiar territory, all right. You're standing on U.S. soil, but things begin to shift and suddenly the soil underneath your feet happens to be a beautiful sandy beach with a breathtaking view of the Caribbean — and somebody just put a locally crafted Cruzan rum drink in your hand. Yes. Paradise, indeed. The island of St. Croix is perfect for those who love traveling and experiencing new cultures, and exciting diving, and also welcome the ease of enjoying an English-speaking destination that uses U.S. currency and has electrical outlets that match our personal appliances. The PR folks got it right when they called the United States Virgin Islands "America's Paradise." A passport isn't even required of Americans arriving from the U.S. mainland.
About St. Croix
Like many Caribbean islands, St. Croix didn't really make it onto the map until 1493, when Christopher Columbus "discovered" it during his second voyage to the New World. Never mind that the first inhabitants, the Igneri and Taino people, descendants of the Arawaks, began making their way north from South America as early as A.D. a few hundred years and had a thriving, very sophisticated settlement on what is now the island of St. Croix. The archaeological remains of their early civilization, including delicate pottery and clay jewelry, can be viewed at the Salt River Bay National Historic Park and Ecological Preserve. According to the National Park Service, the Columbus Landing Site at Salt River Bay is the only known site where members of Columbus' expedition party set foot on what is now U.S. territory. Columbus named the island Santa Cruz. After sailing northward through a vast collection of islands, islets, rocky outcroppings and cays, he later declared them Isla de Virgines — the Virgin Islands — in honor of fourth century Christian missionary St. Ursula and her 11,000 martyred virgins. Today these islands comprise the U.S (and British) Virgin Islands (USVI and BVI), although at various times throughout history, the flags of Holland, France, England, Spain, Denmark and the Knights of Malta ran up and down the pole. In 1733, the French government transferred ownership of St. Croix to the Danish West India and Guinea Company for a sum of about $150,000. In 1917 the United States, eager to establish a military outpost in the Caribbean, paid Denmark $25 million in gold to acquire the USVI.
Today the islands of the USVI make up an unincorporated territory of the United States. Residents are U.S. citizens. They can elect a local Senate and a nonvoting representative to U.S. Congress but cannot take part in U.S. presidential elections.
A distance of nearly 70 miles (112 km) south of the U.S. Virgin Islands of St. Thomas and St. John, St. Croix is the largest of the USVI at nearly 28 miles (45 km) long and 7 miles (11 km) across.
About 50,000 people call St. Croix home. Known as Cruzans, they represent a cosmopolitan mix of cultures, including African, French, Puerto Rican, East Indian and other Caribbean nations. English is the official language, although it's spoken like it's been set to a Calypso tune.
Cruisin' Cruzan-Style
You'll find plenty of exploring to do. Island tours are readily available, but renting a car and driving a scenic route dubbed the Heritage Trail is also a great way to take in some of St. Croix's natural and historic beauty. This is where things get a little bit different from how we do it back home, as driving is on the left, a holdover from the island's Danish heritage. But the roads are well-paved and easy to navigate and road signs mark area attractions. Starting out in Frederiksted, Heritage Trail stretches 72 miles (115 km).
Plan to stop and tour Danish Fort Frederik, with its cannons pointing out to sea. Fort Frederik was the site of the first foreign salute to the new United States in 1776. When you've had enough man-made history, you can drive through St. Croix's semitropical rain forest. Yellow cedars and Tibet trees (also called "mother's tongue" for its seed pods that rustle in the wind) line the road. Keep an eye out for the occasional mongoose or iguana crossing; local wildlife has the right of way.
On West Airport Road you'll find the Cruzan Rum Distillery, which offers daily tours. You'll walk past long rows of rum kegs, up ramps past the distilling area and into the bottling and labeling room. Cruzan is barrel-aged "Don't Hurry" rum so make time for tasting and trying new drink recipes featuring one of their 20-plus rum varieties.
Nearby Estate Whim Plantation is a restored working plantation that portrays life during the 18th century, when the island was a major producer of sugarcane for export to Europe. A windmill grinds grains and sugar cane each day. Guides recount plantation lore as they show visitors through the greathouse and museum.
Mahogany is another historically valuable local resource that still thrives in the rain forest north of Frederiksted. The St. Croix LEAP (Life Environmental Arts Project) was founded many years ago to provide local woodcarvers with a way to hone their craft. Visitors to the LEAP workshop can meet the artists and purchase souvenirs that are truly works of local art.
Among other attractions worth visiting is Fort Christiansvaern with its cannons protecting the quaint 18th-century harbor town of Christiansted. Built by the Danes in 1774 to protect the harbor, it is now a national historic site. Just down the street is the Steeple Building, which houses a small museum of Carib and Arawak artifacts.
Christiansted's Government House, located on King Street, is a fine example of Danish colonial architecture. The building continues to be used for government functions while undergoing extensive renovation. Christiansted is also home to several beautiful old churches of historic significance, including the Gothic St. John's Anglican Church and the huge Moravian Church. St. Patrick's Roman Catholic Church was built of coral stone in 1842.
Whether you're into art or nature or architecture or cultural history or just a nice slow sip of rum, St. Croix's got it going on.
Going Below
In the same way that St. Croix's has "all that, and then some" on land, it's got it going on like that underwater, too. At some island destinations the dive shop is often a "quaint" shack on the beach, but St. Croix's dive centers are more the "American-style" full-service kind, with gear and accessories and boutique items. When making plans to join a dive center for a trip, be sure to arrive early enough to meet the shop's mascot. It seems like every shop I visited has a friendly dog eager to fetch a stick or at least an aloof "shop cat" that might give you a quick once-over before deciding you're not worth it.
An important benefit of vacationing under a U.S. flag is that all the local dive operators adhere to U.S. Coast Guard rules and regulations on vessel operation and safety, with oxygen and first-aid kits onboard. Boats hook up to permanent moorings. A variety of dive operators offer daily boat and shore diving tours for divers of all ages and experience levels, making St. Croix an ideal destination for families and for those who are new to the sport of scuba diving. Diving depths range from patch reefs that start in less than 30 feet (9 m) of water to the dramatic walls off Cane Bay and the West Wall of Salt River Canyon that drop into the blue abyss. Most operators offer a two-tank morning dive trip that returns around lunchtime, followed by a one-tank afternoon dive trip. Guided night dives are offered regularly. Snorkeling trips are available, too, as are kayaking trips and popular stand-up paddling (SUP) tours. Nitrox is available, as are a variety of recreational and technical scuba training programs.
Visibility averages from "clear" to "crystal clear" and water temps are in the "warm bath" range. A tropic-weight wet suit or skin is sufficient. The underwater topography and marine life varies depending on the site. Reefs are a healthy mix of hard and soft corals and the usual inhabitants, such as angelfish, parrotfish, yellowtail snapper, grouper and an abundance of invertebrate life including arrow crabs and cleaner shrimp. Unfortunately, longline fishing offshore appears to have affected the pelagic population. When visiting St. Croix many years ago, I saw healthy numbers of reef sharks off the north shore walls on practically every dive; on a recent visit I saw only one shark cruising the deep blue.
One site that comes with guarantees, though, is the Frederiksted pier. Dive it day or night, and you're (practically) guaranteed to spot at least one sea horse. Sea horse or no, you are guaranteed to have a great dive. In fact, I recommend that you dive the pier during the day and then plan to return again to experience it at night. You can expect to find a sea horse or two, but also frogfish, scorpionfish, octopus and the occasional flying gurnard, an odd-shaped bottom dweller that appears to "fly" across the seafloor with wings instead of pectoral fins. For one night dive under the pier our guide said that we'd see a young sea turtle head-down in a barrel sponge, asleep. Having worked as a dive guide, I always cringe when a guide boasts of a "sure thing" but, sure enough, halfway into the dive, there it was — a cute little turtle butt sticking up out of a barrel sponge, just like the guide said.
Another way to enjoy the underwater wonders off St. Croix is to take a boat trip to Buck Island Reef National Monument, a couple of miles north of Christiansted. The park covers 850 acres (340 hectares) including the 180-acre (72 hectares) island, and features a lovely sandy beach and picnic areas. Half- and full-day tours shuttle snorkelers by boat out to the island each day. Two major underwater trails, Turtle Bay and East End, are marked with signs that identify marine life.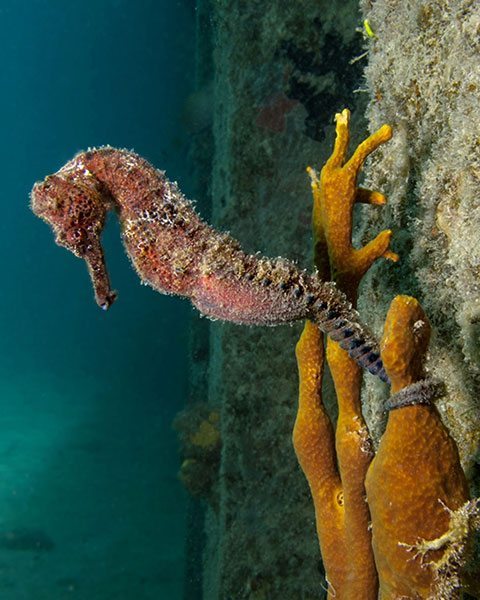 Local Flavor
Cruzans love to "lime," meaning they love to kick back and relax with friends. And they also love to party, which means there'll be lots of good food. And music. And dancing. West Indian favorites include lobster, fried fish, conch fritters, stewed mutton, fried plantain and a popular dish called fish 'n' fungi — fried or salted fish served with fried cornmeal and okra mash. Puerto Rican and East Indian influences are evident on most restaurant menus, which often include red beans and rice, and spicy curry dishes. The musical menu includes sounds from reggae and steel pan bands, to scratch bands whose members use an assortment of homemade instruments for a truly unique sound. Calypsonians are noted not for their instruments, but for their sharp lyrics, which often poke fun at local politicians.
Carnival is the islands' biggest party. St. Croix's carnival takes place in December and features troupes of Mocko Jumbies — "elevated spirits" dancing high atop towering stilts. In addition to stilt walkers, the celebration features decorated floats and trucks loaded with steel pan bands, and crowds of partiers dancing in the streets.
St. Croix has the distinction of featuring the only casino in the Virgin Islands. The Divi Carina Bay Casino offers gambling and entertainment Vegas-style, but with a decidedly Caribbean flavor.
And More
When you're done diving for the day, you won't be left without options for what to do beyond limin' on the beach with a good book. If you haven't had enough of the water, you can book a fishing trip or go parasailing or stand-up paddling, or take a sunset sailing excursion. Carambola Golf Club will delight those who enjoy golf. Duty-free shops in Christiansted and Fredericksted offer bargains on jewelry, perfume, liquor and electronics. Local dining and nightlife options range from laid-back joints to high-end haute' cuisine restaurants and hot-hot-hot dance clubs.
If you're looking for a tropical trip that's a world away but offers just the right amount of back-home convenience, pack your bags for a trip to St. Croix. Instead of waiting in line to clear customs for the first hour upon arrival, you'll already be limin' on the beach.
---
The St. Croix Hook
When visiting St. Croix you'll likely find many local men and women sporting bangle bracelets of silver and gold, fastened with a hook. Jeweler Sonya Ltd. in Christiansted claims to have designed the original hook bracelet more than 40 years ago. The original design features a simple horseshoe hook closure, symbolizing good luck for the wearer. But how one wears the bracelet also symbolizes their romantic status. If the hook closes toward the wearer's heart, it means their heart has been "hooked" by another, and they're not looking for romance. If the hook faces away from the wearer's heart, it means they're available.
---
Story and photos by Cathryn Castle