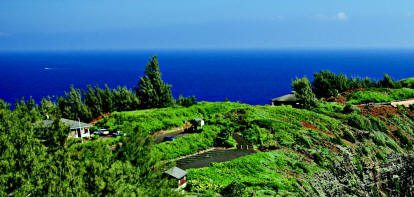 There are a lot of places in the world that have plenty of sunshine, lush vegetation, isolated beaches and inviting water, but of those, the Hawaiian island of Kauai is the standard-bearer. In addition to spectacular diving, Kauai's visitors enjoy a tremendously varied menu of jaw-dropping landscapes, the service and company of extremely friendly locals, and a rejuvenating sense of peace that comes with being in nature. Add in a wonderfully rich history, diverse cultures and the Aloha Spirit, and you have an island destination unsurpassed in what it offers. On top of all of that, the island of Kauai, like all of Hawaii, is part of the United States. For U.S. citizens this bonus makes travel exceptionally easy as no passports, immigration forms or inoculations are needed.
Topography and Climate
As is the case with all of the Hawaiian Islands, Kauai is volcanic in origin. Volcanic islands have a life cycle. They are born from the sea, flourish in warm sunshine, grow, mature, age and eventually die before they once again sink below the waves. The tropical paradise we know today as Kauai was born when a rupture in the Earth's crust that occurred thousands of feet below the surface of the Pacific Ocean caused a vent to eject copious amounts of magma, the earth's DNA. Eventually this growing undersea mountain reached upward past the surface and about 5.8 million years ago the island was born. About 105 miles (168 km) across the Kauai Channel from Oahu, Kauai, is the northernmost of the eight major Hawaiian Islands. It is also the oldest. The scenery is stunning. Lush tropical forests and valleys, towering mountains, razorback ridges and a combination of rugged coastlines and inviting stretches of sandy beach bordered by protected water in some places and curling surf in others is only another partial description.
The highest peak, Mount Kawaikini, towers 5,243 feet (1,589 m) above sea level, with the second-tallest being the 5,148-foot (1,560-km) Mount Waialeale, near the middle of the island. The eastern side of Mount Waialeale averages about 460 inches (1,168 cm) of rain annually. The heavy rainfall and Father Time have combined to erode deep, extraordinarily lush valleys in the central mountains along with numerous canyons that have been carved out of sheer cliffs by thunderous waterfalls that cascade downward, feeding a series of streams and rivers that crisscross the island. Kauai's shorelines and more than 50 miles (80 km) of white-sand beaches are as varied and spectacular as the island's interior. Probably the most noted section of coast is the rugged 15-mile- (24-km-) long expanse known as the Na Pali (meaning the cliffs) Coast along the island's northwest side. The spectacular "Grand Canyon of the Pacific," the 10- mile- (16-km-) long, two-mile- (3.2-km-) wide Waimea Canyon lies along the Na Pali coast. From sea, air or limited land access the view is magnificent, and a visit to this side of the island is a "must do." Several popular beaches protected by fringed reef can be found along the north shore, while numerous other easily accessible beaches can be found along the remainder of the coastline. Known as the Forbidden Isle, and also sometimes referred to as the Forgotten Island and the Distant Isle, the island of Niihau lies west of Kauai roughly 17.5 miles (28 km) across the Kaulakahi Channel. The smaller, crescent- shaped island of Lehua is 0.7 miles (1.1 km) north of Niihau. From a diver's perspective the three islands are very closely linked as some of the most exciting diving enjoyed by divers that visit Kauai is enjoyed at Niihau and Lehua. Although Kauai's climate is often described as tropical or semitropical, a closer inspection reveals that the island's climate consists of several microclimates that include verdant river valleys, sunny dry zones, temperate foothills and high mountain rain forests.
Daytime temperatures at sea level generally range from highs that average mid-80s Fahrenheit (20-30 degrees Celsius) on summer days (mid- to high 70s F during other times of the year) to wintertime nightly lows near 60 F (16 C). Nearly constant trade winds moderate temperatures creating a cooler, more balmy climate than is experienced on many tropical isles. It rains more on Kauai than it does on the other Hawaiian Islands, yet the locals love to look visitors straight in the eye and proudly state that Kauai has the best weather in Hawaii. Their indisputable point is that when the weather is good on Kauai, it is stellar. On those days, clear skies and gentle, warm sea breezes rule. That said, it is likely to rain some while you are in Kauai, but unlikely that constant rain will ruin your trip, and you will want to remember that it rains considerably more in the island's interior and at night than it does along the coast and during the day. The likely weather forecast is "mostly sunny with a few passing showers," and, once again, the local philosophy is worth noting, as they are quick to point out that "without rain, there are no rainbows."
Cultural Kauai
It is generally believed that the first human inhabitants of Kauai were a tribe of Marquesans who sailed to the island from Polynesia in the fourth or fifth century. Local folklore suggests otherwise, claiming a mythical race of small people known as the Menehune were there first. Today, in many parts of the Hawaii the Menehune still get blamed when people can't find their sunglasses or car keys, claiming "the Menehune must have moved them." The lives of the early Hawaiians were strongly influenced by the combined power of the natural world and their gods who appeared in both human and animal form.
It wasn't until the 1700s that Europeans first set foot on any of the Hawaiian isles and the era of modern history began. Most historians believe that in 1778 Captain James Cook, the renown English explorer, was the first person from the Old World to arrive on Kauai, when he landed at Waimea Bay while undertaking his famous voyage to Alaska. In 1810 King Kamehameha, the reigning monarch of all but two of the other major islands, took over control of Kauai from King Kaumualii. Five years later Georg Scheffer, a Russian doctor, traveled to Kauai with the hope of retaining a favored trading position with King Kamehameha. Because King Kaumualii still held some power, Scheffer apparently assured Kaumuailii that Nicholas I, the King of Russia, would help him regain control over Kauai in exchange for some valuable cargo that was being held in Waimea. King Kaumualii granted permission for Scheffer to build Fort Elizabeth on Kauai's west side and two more forts near Hanalei. Scheffer's plans went awry when he was summoned back to Russia, leaving Fort Elizabeth to fall to King Kamehameha, and the fort was later used in the effort to put down a rebellion by Kaumualii's son. Missionaries settled on Kauai in the first part of the 1800s and in 1835 the first sugar plantation was established in Koloa. The sugar industry boomed, attracting immigrants from Asia and Europe. In 1893, Queen Liliuokalani was overthrown by a group of Americans, and all of Hawaii started down the path toward statehood. Although it was strongly opposed by significant sectors of the population, the Hawaii Islands were annexed by the United States in 1898. In 1959 Hawaii became the 50th state in the United States.
Underwater Splendor
Kauai's dive sites offer extraordinary variety, excellent visibility and a wonderful mix of marine creatures. At the highly acclaimed Sheraton Caverns off the south shore you might not go deeper than 40 feet (12 m) as you swim through a labyrinth of large lava tubes inhabited by schools of brightly colored snappers and more green turtles than seems possible. In other areas ranging from Ice Box to Zach's Pocket and on the west side at Mana Crack the dives are a bit deeper but there is no telling what you will encounter, as Kauai's waters are loaded with everything from brilliantly colored reef creatures to pods of spinner and bottlenose dolphins, whitetip reef sharks and gray reef sharks. During winter months Kauai's waters are home to migrating humpback whales. Another attraction of diving in Kauai is that about 23 percent of the fish species found in Hawaii are endemic — found only in these waters. The statistics for some invertebrate groups are similar. Although it varies, the underwater visibility often exceeds 100 feet (30 m). Be aware that the water is slightly cooler than in many tropical destinations, and divers routinely use 5-mm, or even 7- mm-thick wet suits as well as a hood and gloves to keep warm. In the summer the water temperature is sometimes as high as 82 F (28 C), but in winter it often drops to as low as 72 F (22 C).
Most of the diving off Kauai is conducted from local charter boats. Rides to the dive sites vary from just long enough to put your gear together to an hour or so depending upon the conditions of the day and the desires of the divers on board. The local boat dives are typically two-tank dives, with some operators running both morning and afternoon trips. Dive trips to Niihau and Lehua Rock are all-day affairs. Those trips operate from late spring to early fall, the time of year with the calmest water. There is no doubt that the price of a longer boat ride is well worth it when you have a chance to dive the stunning walls at Key Hole, and enjoy the likelihood of seeing plenty of sharks, perhaps some schools of frenetic tuna and an endangered, yet curious, Hawaiian monk seal or two.
Currents are common, and as a result, so is drift diving. Those who have a tendency to get seasick are advised to take precautions, and it's always a good idea to bring sun protection. Surface signaling devices such as a Dive Alert™ and inflatable safety sausage are also recommended. Nitrox is available through some operators. Beach diving on Kauai is somewhat limited, but the dive at Koloa Landing (aka Whaler's Point) is a fish lover's dream come true. The entry, exit and dive are so easy that many divers make two dives.
Paradise, Topside
There is so much to see and do on Kauai that trying to decide which activities or forms of relaxation to partake in is often one of the more difficult decisions visitors have to make. Those who want some exercise can surf (lessons available), boogie board, and hike along the coast or into a rain forest, swim or kayak. There is also the possibility of joining a guided mountain bike tour, going horseback riding or testing the Tiger Woods in you by teeing it up on a world-class gold course. You might opt to hike up to Kalihiwai Falls where you can take an exhilarating fall off a rope swing into a pool of fresh water. Perhaps you'd prefer to take a scenic drive, stopping along the way to enjoy majestic vistas and check out the seabirds at Kilauea Point Wildlife Refuge, or visit an old Hawaiian village. Of course, there is always plenty of opportunity for shopping along the way. The narrow gauge train at Kauai Plantation railway and the plants at the 1,000-acre National Tropical Botanical Garden are other popular activities. During wintertime, enjoying the spectacular surface displays of humpback whales is a "must do." Many people say the same about helicopter tours no matter what time of year. Another adrenaline pumping way to see the island is to go on a zip line adventure and soar through the tree tops while hanging by a cable. After all of that exercise, getting rejuvenated at a spa can be a perfect way to wind down before going on a dinner cruise, enjoying a Polynesian dinner show or going out on the town to enjoy varied cuisine. Or you could go to Kauai as so many do, to get married. Lastly, many visitors enjoy going on a movie tour, as Kauai is very popular with Hollywood because of the island's natural beauty.
The stunning cliffs of the Na Pali Coast meet the sea as seen from a helicopter. Zip line adventures are a great way to see topside Kauai and to get your adrenaline flowing. Kauai's waters are loaded with everything from brilliantly colored reef creatures such as nudibranchs, cowries and lobsters to pods of spinner dolphins, bottlenose dolphins and gray reef sharks.
Story and Photography by Marty Snyderman