Our charter boat slices through the calm waters of Sir Francis Drake Channel, the passage that runs down the middle of the British Virgin Islands. Our guide Nigel, a rather chatty ex-pat from Canada, points out one island, then the next, explaining that many are named after 17th century pirates or privateers. Pirates, he explains, were those sailors who committed illegal robbery on the high seas, while privateers – who committed virtually identical acts of robbery on the high seas – did so legally, by way of an official license granted by their country's ruling monarch. As we ponder how an early sailor might go about obtaining an official license to pillage and plunder, Nigel further explains that pirate treasure was routinely buried on these islands by pirates who hid their booty – that's pirate lingo for treasure – for safekeeping from other pirates (which supports the old saying that there's no honor among thieves). Some of the treasure was never recovered, he says, and according to local legend, great fortunes in gold remain buried along these shores.
As Nigel heads off to help secure the boat to a mooring at the dive site, we get ourselves geared up for our first dive in BVI waters. Peering into the impossibly clear, blue water, we do our best to pay attention to the predive briefing while our minds swirl with thoughts of buried treasure. Ready for giant strides off the stern deck, we disguise our excitement with pirate talk: "Ready to cast off, matey?" "Aye-aye, sir."
50 Isles in Easy Reach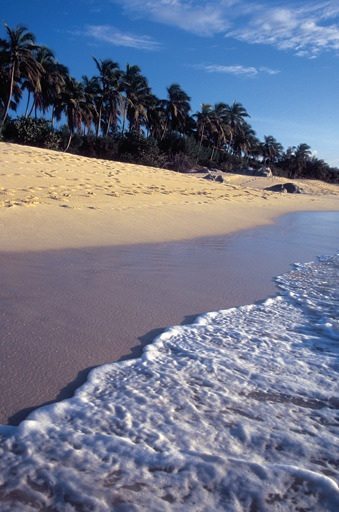 The British Virgin Islands or BVI make up a double strand of 50-plus rocks, cays, islets and volcanic islands that extend for more than 70 miles (21 km) along the northeastern perimeter of the Caribbean just east of the U.S. Virgin Islands. Aptly called "Nature's Little Secrets," the islands are draped in tropical greens and range in size from Tortola, at 21 square miles (55 sq km) to tiny Sandy Cay – just big enough for a picnic with a few friends. Only 16 of these gems are inhabited, with the principal islands being Tortola, Virgin Gorda, Anegada and Jost Van Dyke. All told, the local British Commonwealth population is only about 18,000 strong.
Tortola, "land of turtle doves," is the largest of the British Virgin Islands and is about 60 miles (96 km) east of Puerto Rico. Its most popular point of entry for vacationers is the amusingly named East End Beef Island Airport, which is linked to the capital city of Road Town by the one-lane Queen Elizabeth Bridge. The highest point on Tortola is Mount Sage at 1,780 feet (539 m), providing magnificent views covering much of the island chain. All of these islands, except Anegada, are of volcanic origin with sloping mountainous terrain and lush tropical growth at elevation. In the lower realms, there might be scrub and cactus-covered hills layered with rough-hewn rock formations or graceful swaying palms. Most are made all the more idyllic by numerous lovely white-sand beaches and stunningly clear turquoise water.
Virgin Gorda, "The Fat Virgin," has a ridge similar to Tortola – though only 8.5 miles (13 km) long and reaching 1,370 feet (415 m) at Gorda Peak. An intriguing group of huge granite boulders forming water-filled grottos are strewn along the southern beach of Devil's Bay and collectively titled "The Baths." These boulders, which researchers believe may have been carried by a glacier in some distant ice age, create an environment so memorable that The Baths have become one of the most famous icons of the BVI and indeed the Caribbean.
The island of Jost Van Dyke is the fourth-largest and has more of a hilltop than a peak, but the views looking down at the sapphire hues of the Great Harbor Bay are still an enticing vision. On the East End, a natural Jacuzzi awaits in the form of a bubbling pool created by the foaming sea.
Head some 15 miles (24 km) northeast from the other islands and you'll come to a long stretch of raised coral, sand and scrub known as Anegada. Called the "drowned island" because its highest point is only 28 feet (8.5 m), Anegada carries a somewhat infamous reputation for having treacherous reefs that are now the final resting place for more than 300 shipwrecks. Dozens of smaller isles and islets are only accessible by boat and bolster the BVI's deserved reputation as a cruising paradise.
A Less Than Virgin Past
Christopher Columbus passed through the British Virgins on his second voyage to the New World in 1493. The islands impressed him with their beauty, for which he named them Isla Virgines, in reference to the legend of St. Ursula and her 11,000 martyred virgins. But Columbus had his sights set on the larger islands of Puerto Rico and Hispaniola, and his mind on a wealth of gold that might be found there, so he didn't dawdle. The islands remained unsettled for at least 100 years. True to Nigel the dive guide's briefing, the local real estate – a chain of lush islands sandwiched by a relatively protected deep-water channel and plenty of coves and bays for ships to lay anchor – quickly attracted the likes of Blackbeard, Norman and Jost Van Dyke, privateers and pirates who pillaged and plundered with impunity until the first European settlers arrived in the mid-17th century. (Nigel was right about how some islands got their names, too.)
The BVI was annexed by Britain in 1672, which marked the start of the islands' plantation era. British plantation owners relied heavily on slave labor to bring in their cotton and sugar crops. Soon the export of sugar, molasses and rum were a mainstay of the islands' economy. However, in 1834 when slavery was abolished in the BVI, the plantation system crumbled. Many white settlers abandoned their holdings and returned to Britain, leaving the freed slaves to claim the land for their own use. Since 1867, the BVI have been considered a part of the Leeward Island Federation and remain a British Crown Colony to this day.
The BVI government is composed of a legislative council of elected representatives who select a chief minister. A British governor appointed by the queen represents the crown. Today, the British Virgins are a favorite destination of sailing yachtsmen, cruise ships and easy-going tourists. Protected bays and sheltered coves that for hundreds of years offered safe anchorage to pirates are now the vacation hideaways of world travelers and savvy divers.
Virginal Dive Sites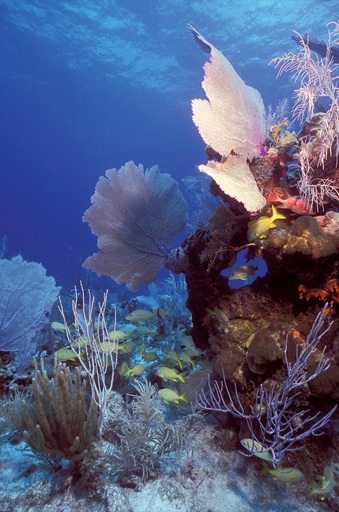 To maintain the pristine beauty of the underwater environment and protect it from anchor damage, the BVI National Parks Trust has installed more than 200 mooring buoys (surface buoys attached to stainless steel pins set in bedrock) throughout the islands. Moorings are in place at BVI dive sites and mooring rules are strictly enforced. Anchoring is prohibited. The BVI offers a varied palette of uncrowded diving – and a surprising range of pinnacles, walls, tunnels, caves and numerous shipwrecks. Most dive sites average in the 40- to 60-foot (12- to 18-m) range, which will allow divers plenty of bottom time. Snorkeling in the BVI is also some of the Caribbean's finest and many sites are suitable for both activities.
Any diver who's ever heard of the BVI has likely heard about the famous wreck of the royal mail ship Rhone, a 310-foot steamer that went down just off Salt Island during a hurricane in 1867. The wreck of the Rhone can be explored at several levels. The bow rests on its starboard side in 90 feet (27 m) at its deepest point; the midsection is a favorite with upright columnlike framing at 60 feet (18 m) and the stern sits in less than 30 feet (9 m), offering an enormous bronze propeller and plenty of fish life for freediving. It's no wonder that the wreck has become a favorite backdrop for photographers and filmmakers.
One of the more popular sites to make the must-dive list is Blonde Rock, not far from the Rhone and highlighted by a fabulous ledge with deep overhangs filled with schooling fish, lobsters and occasionally nurse sharks and turtles. Santa Monica Rock is an unusual dive site that ranges in depth from 20 to 100 feet (6 to 30 m) not far from Norman Island. The underwater topography is made up of a series of rocky pinnacles, some rising to within a few fin kicks of the surface. Here larger pelagics like eagle rays and reef sharks tend to keep things exiting and you'll quickly learn to keep one eye on the blue. A site called the Indians, also near Norman Island, is marked by an unusual rock formation that juts out of the water from a depth of 50 feet (15 m) and features a tunnel that divers can pass through to the other side. Of course there are a host of other fantastic dives with fanciful names to be found throughout the islands.
One of our favorite areas was around the Dog islands. Here there were only two other boats in the area and countless dive sites to choose from. We ventured first to our deepest dive on the wreck of the Chikuzen, a 246-foot (75-m) refrigeration ship that sank in 1981. Even though the seas were a bit choppy on our visit, the absence of current and unreal visibility made this a worthy effort and very easy going once in the water.
A Relaxed Escape
The British Virgins are a lightly populated place and lack much of the bustle and development seen in parts of the nearby U.S.-flagged St. Thomas. As such, even the most developed island of Tortola is relaxed and the pace is laid-back. A cursory exploration will uncover cheerful pastel-painted buildings, historical forts, old sugar mills, and a smattering of delightful little shops and hangouts that dot Road Town's Main Street and Soper's Hole. Dining is integral to the island experience and restaurants often feature West Indian specialties of fresh lobster, conch, spicy goat, and curries of every description. Quenching a thirst is easy when one is never far from an authentic English pub. The bartender is always ready to serve Pusser's Rum, a traditional drink of the British Navy for some 300 years, or a popular libation with far less history that is aptly named the "Pain Killer." Accommodations are available to suit every style and price range, from quaint bed-and-breakfasts, small inns and hotels, to larger full-service resorts. Many resorts have full-service dive centers. Some also have marinas and cater to the sailing and yachting crowd. Absent are high-rise beachfront mega resorts and casinos. On a hot day, head for the center of Road Town, where J.R. O'Neal Botanic Gardens serves up a refreshing retreat in the four-acre garden of lush indigenous and exotic tropical plants.
With so much natural beauty and relaxing diversions, many choose to stay only on Tortola, but it also offers the logical jumping-off point to all the rest of the islands of the BVI. Visitors can choose to commute via the ferry service, charter a boat or simply take a short flight to many of these nearby destinations. Considering the ease of getting around, anyone planning a trip to the BVI should seriously contemplate doing a little island hopping.
Virgin Gorda is the next-largest island and its unusual terrain of mountains to the north and boulder-strewn flatlands to the south is readily available to the intrepid explorer. It is on this island where several of the BVI's most luxurious resorts are found and the beauty of the shoreline (including the famous Baths) makes this clearly understandable.
Jost Van Dyke, on the other hand, still welcomes travelers looking for a remote, rustic retreat and first-rate hiking trails. The best beaches are found at Great Harbour and White Bay, while Main Street is a sandy strip of beach holding the BVI customs house and several, small beach cafes famous for their freshly baked banana bread and coconut muffins. With a decidedly offbeat but friendly community of about 200 inhabitants, hotel accommodations are modest and cater to the cruising yachtsman and eclectic traveler. At one of the town's most popular dining spots, the island's poet laureate-restaurateur greets each guest with a personalized guitar-accompanied serenade.
Anegada is quieter still and popular among those truly wanting to get away from it all and enjoy its relaxed accommodations and handful of flamingos. Privately owned Peter Island is home to a resort of the same name. It is accessible by ferry.
Of course there are many more pockets of escapism scattered between these larger islands that await your discovery in the BVI. It doesn't take much to find them. Just bring your sense of adventure and an appreciation for the islands' unspoiled beauty. And perhaps most importantly: Bring a smile and an outgoing nature, as the locals appreciate it when you respond to their warm and frequent greetings.
Story and photos by Tanya Burnett and Kevin Palmer