In the northwestern Caribbean just 90 miles (144 km) south of Cuba is a trio of relatively small islands that make up the Cayman Islands. Grand Cayman, at 22 miles (35 km) long and 7 miles (11 km) wide, is almost twice the length and many times wider than its smaller "Sister Islands" of Cayman Brac and Little Cayman, 89 miles (142 km) to the northeast. Cayman Brac (known simply as the Brac) is a rugged 14 square miles (36 sq. km) dominated by a 144-foot (44-m) bluff or cliff on the eastern end of the island. Little Cayman, just 7 (11 km) miles away and measuring only 10 miles (16 km) long, barely reaches 40 feet (12 m) at its highest point.
Because of their location, the Cayman Islands, as are all the other islands in this region, are susceptible to hurricanes during the hurricane season that runs from June 1 to the end of November, but a direct hit is very unlikely.
Cayman Island history dates back to the voyages of Christopher Columbus. During his final voyage to the New World, Columbus sighted Cayman Brac and Little Cayman in May 1503. Columbus saw an abundance of turtles and named the two islands "Las Tortugas" (The Turtles). This name stuck only briefly. After Las Tortugas came the name "Lagartos," meaning large lizards, which likely referenced the abundant iguana population. Even today, iguanas are a common sighting on both Little Cayman and Cayman Brac. Near the mid-1500s this name was replaced with the name "Caymanas," derived from the Carib word for marine crocodiles. Sir Francis Drake reported sighting "great serpents… large like lizards, which are edible" on a 1585-86 voyage.
During the decades that followed, Cayman Brac became a prominent stopping place for pirates including the famous "Blackbeard." The island provided a plentiful source of turtle meat as well as fresh water. Today there are still tales of hidden treasure, and many Brackers have been lucky enough to find doubloons and bars of silver.
It was not until 1655 when the English captured Jamaica from the Spanish that the Cayman Islands were really viewed as being worth a colonial investment. Permanent settlement began on Grand Cayman sometime between 1670 and 1730. These early settlers were subsistence farmers, mariners and loggers. The men of the colony gained a reputation as excellent seamen and this reputation has continued throughout the years. The population of the islands slowly grew as small-scale planters from Jamaica arrived with their slaves. The emancipation of slaves occurred in 1835 at which time many of the ex-slaves chose to remain on the islands and take up subsistence farming and fishing.
Before 1900, change came extremely slowly to the Cayman Islands. Not only was there a lack of local resources but also a lack of interest in the islands by both Jamaica and Britain. However, as greater movement occurred between the Cayman Islands and the United States, the colony became more modernized. In 1962, political ties with Jamaica were severed with the achievement of independence. It was also at this time that turtle harvesting and shipbuilding were on the decline and Caymanians began to look for alternative means of work. Between the 1950s and 1970s, tourism started to develop, as did the banking industry. The year 1954 marked the opening of the Owen Roberts Airport in Grand Cayman and in 1955 the runway at the Gerrard Smith Airport in Cayman Brac was completed. The new air service to Cayman Brac encouraged the building of the first guesthouse, the Buccaneer's Inn.
It wasn't long before divers discovered these tiny islands as an attractive dive destination. The lack of sediment and vegetation along the shorelines and the porous limestone cores, provide both islands with amazing water clarity, making for superb visibility year-round. In June 1976, the first dive operation on Brac called Brac Aquatics opened its doors for business.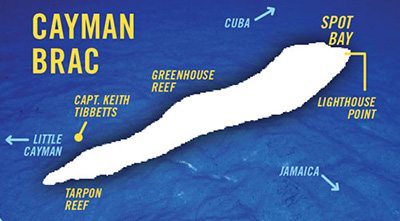 What About the Diving?
Cayman Brac and its sister island of Little Cayman have always received top diving destination rankings. Not only is there great visibility, but there is also a wide variety of dive sites that receive little traffic. The number of dives sites continues to grow with the Cayman Islands Department of Tourism's initiative called "Dive 365." The goal of this program is to provide 365 marked mooring dive sites throughout the Cayman Islands — one for every day of the year.
Whether you are a newly certified diver or have years of experience under your belt, Cayman Brac can offer you a dive vacation that you'll enjoy. Currents are seldom strong, visibility typically exceeds 80 feet (24 m) and site depths can be relatively shallow. There are also several accessible shore diving spots and although they are not marked on the roadside, the resorts or car rental agencies will be able to guide you to the most popular ones. Entry into these shore diving spots is often over iron shore, so booties or reef shoes are a requirement.
Wall dives around Brac are best accessed by boat. If you are planning on boat diving, do call ahead for reservations. A typical day of diving would include two dives in the morning followed by one dive in the afternoon. The morning dives begin with a wall dive to a maximum depth of 110 feet (33 m) followed by a reef dive to about 60 feet (18 m). The afternoon dive is once again a shallower reef dive.

Walls, Reefs and Wrecks
The walls of Cayman Brac are of the more sloping variety and generally start between 45 and 60 feet (14 and 18 m). On the north side of the island spur and groove formations provide dramatic sand waterfalls at West, Middle and East chutes. The walls along the Chutes are covered in gorgonians and large barrel sponges — an ideal place to look for crabs and lobsters tucked into a ledge. The deep blue is a great place to catch a glimpse of a shark, a turtle or an eagle ray. East Chute is also home to one of the smaller wrecks, the Cayman Mariner, intentionally sunk in years past. The north side of the island sports one of Brac's most popular dive sites — the MV Captain Keith Tibbetts. This 330-foot (100-m) Russian frigate, intentionally sunk in 1996 as an artificial reef, appeals to any skill level. The bow, now severely tilted to its port side, rests in the sand at 90 feet (27 m) while its stern sits at 60 feet (18 m). The radar tower rises to within 26 feet (8 m) of the surface and is easily accessible even by snorkelers. There are two other attractions on the north side that are not reefs. Both are easily accessible from shore or boat at a site called Radar Reef. One is a striking bronze sculpture called Oceanic Voyagers that was created by diver and artist Dale Evers and sunk in January 2003. It depicts two dolphins with four stingrays circling below. The sculpture sits in a sandy area at 45 feet (14 m) constantly attended by a troop of very enterprising yellow-headed jawfish. The other attraction is a replica of the Lost City of Atlantis created by local artist Foots. This huge undertaking has more than 50 pieces assembled in a sandy area at around 50 feet (15 m). Some damage to Atlantis resulted from the hurricane but repairs have been undertaken and new features continue to be added, as evidenced by several statues waiting on the shoreline.
One of the most popular shallow sites is Tarpon Reef. Here large congregations of silver-sided tarpon spend their days waiting for dusk and feeding time. If you are a photographer, take along a wide-angle lens but don't be too pushy; pretending that you are ignoring them usually gets you closer and produces the best results.
Fishing, Climbing and Other Topside Adventures
Brac is a fairly quiet island and if you are going there for the nightlife you will likely be disappointed. However, if you are looking for a bit of adventure then you will surely find it. Fishing is second-nature to most Brackers. No matter the weather you will usually see some boats out fishing. There is bone fishing in the shallow, sheltered areas and, of course, deep-sea fishing for tuna, marlin, wahoo and dolphin.
Brac has a number of hiking trails that will introduce you to the flora and fauna of the islands. These hikes can range in difficulty from easy to challenging, so pack a pair of sturdy shoes. To taste a bit of history and see some incredible views, hike along the Lighthouse Footpath once used by the lighthouse keepers to attend to the lighthouse. This trek will take you from the lighthouse, past nesting brown booby birds to Peter's Cave high above the village of Spot Bay.
There are numerous other caves along Brac's bluff that you can explore. Access has been made easy with wooden steps and ladders. Great Cave at the southeast end of the island has a large chamber with a smaller chamber off to one side. Bat Cave provides an ideal abode for many of the local bats. The caves have played an important part in the history of the island. During hurricanes they provided safe shelter to the residents.
The hiking trails and caves have interpretive signs posted that provide information about the island, its history and the life that inhabits the area. But for a very worthwhile experience take advantage of the free guided tours offered. Simply contact naturecayman@gov.ky to arrange a time.
Brac is not only famous for its diving but also its rock climbing. Bolted routes are on both sides of the island at the eastern end. Experienced climbers can rappel over the edge of the bluff at Lighthouse Point and then climb their way back up to the top.
Accommodations and Amenities
There are a couple of types of accommodations available on the island, including The Brac Reef Dive Resort (under a total renovation and reopening November 2015) and several condos to choose from. Although restaurants are not abundant there are still several options that will allow you to choose from local fare to fine dining. If you opt for a private home or condo, there are local grocery stores that can provide you with any staples or snacks you might need.
Rental cars and scooters are available but remember that driving is on the left. This usually proves to be no problem as there are very few cars on the roads.
If you are looking for an enjoyable relaxing Caribbean dive vacation, you'll want to give Cayman Brac a try.
Story and photos by Karen and Ian Stewart