One of the great things about living abroad and working with people from all over the world is experiencing other people's cultures and customs, and learning the ways they express themselves. One of my co-workers is a lovely South African woman named Charlotte. Whenever we're out having fun together I'll often say, "This is awesome." But Charlotte? She's got a slightly different way of putting it. In her delightfully sing-songy South African voice, she'll sigh, "Oh, we're having a grand time." Every time she utters this phrase it triggers happy memories of the many times I've visited the Cayman Islands, especially the island of Grand Cayman — which compels me to share a "there was this time in the Cayman Islands, when …" story.
Poor Charlotte. I think she's heard enough of my Cayman Islands stories. Too bad for her, I never tire of telling them. To me, the Cayman Islands are more an experience — a state of mind or a way of being — than a physical place. Maybe it's the miles of sugary sand beaches or the mind-blowing sunsets or the stunning walls and reefs just offshore. Or maybe it's the ease of getting around and the friendliness of the locals, or the seemingly endless dining options. To me, the Cayman Islands, especially Grand Cayman, is just grand.
A Grand Discovery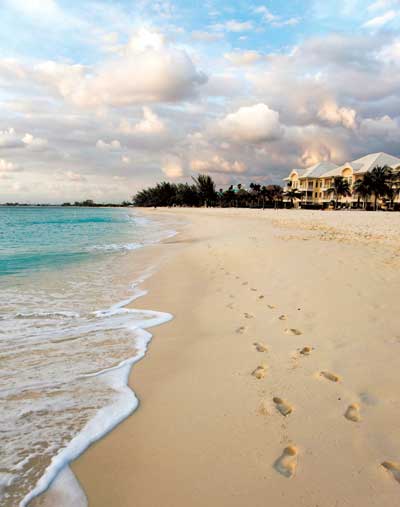 Christopher Columbus spotted Grand Cayman and its smaller islands Cayman Brac and Little Cayman in 1503, naming them Las Tortugas in reference to the abundance of sea turtles. Twenty years later the Cayman Islands appeared on a map as Los Lagartos, meaning alligators, or lizards. Around the same time they were also known as the Caymanes, a name derived from a Carib word for a species of freshwater crocodile called the caiman. The Cayman Islands became a popular "meat market" stopover for sailing ships, which nearly drove the turtle and crocodile populations to extinction.
It wasn't until the mid-1600s that a variety of settlers — shipwrecked sailors, pirates, former slaves, and refugees fleeing the Spanish Inquisition — attempted to establish permanent residence. England was awarded the Cayman Islands and Jamaica in 1670 as part of the Treaty of Madrid, but privateering — a form of legalized piracy — put an end to those early settlements and the islands remained a pirate haven for another hundred years or so, even though privateering was outlawed in 1713. (Apparently not all the pirates and privateers got the memo right away.)
Jamaica governed the Cayman Islands as a British dependency from 1670 until 1962, when Jamaica gained independence from Britain. It was at this time the Cayman Islands opted to accept direct rule by the British Crown. While they remain a British Crown protectorate, the present government of the Cayman Islands is largely self-governing.
The Cayman Islands' reputation as a tax haven dates back to the late-1700s. In the pre-dawn hours of February 7, 1794, 10 ships from a British naval convoy hit the reef on Grand Cayman's east end. Local residents rescued more than 450 people from what is now known as the "Wreck of the Ten Sail." Legend has it that a member of the British Royal Family was among those rescued and as a gesture of thanks, King George III declared that Caymanians should never be drafted into wartime service. Or pay taxes. It's interesting to note that while no official document proving the validity of this so-called decree have ever been found, Cayman Islanders continue to enjoy tax-exempt status resulting from the bravery of their ancestors.
Awesome and Easy
My friend Charlotte's frequent use of the word "grand" hasn't caught on with me. I still use the word "awesome" quite often. And its usage is appropriate when it comes to describing Grand Cayman's diving. If I could only use two words to describe Grand Cayman's diving, awesome would be one of them. The other word? Probably "easy."
Let's start with easy. First of all, I don't mean easy in the sense that this is a beginners-only sort of dive destination. More on that later, but what I'm describing here is ease in terms of easy to get to, and once on the island, easy in a safe, professional, uncomplicated way. Several major air carriers offer regular service, so flights in and out are easy. And once you arrive, you'll be met by smiling English-speaking locals. You'll need a passport and a return ticket, but getting through customs and immigration is a breeze. There's definitely a laid-back island feel to Grand Cayman, so it's easy to relax and ratchet down to "island time." But the good thing is you can do it from a lovely air-conditioned beachfront resort with good cell phone service and wifi. Credit cards are widely accepted. Driving is on the left, which might not seem easy at first, but you'll get the hang of it pretty quickly. And if you don't want to rent a car, taxis are readily available and there's a reliable public bus system, too. That, and most resorts and dive centers offer shuttle service.
So now, let's talk about easy in terms of the diving operations. The scuba diving infrastructure in the Cayman Islands is among the best in the world. These islands rely heavily on dive tourism, and it shows. There are a variety of operators at locations across the island, each adhering to standard safety practices including equipping all boats with VHF radios, first aid and emergency oxygen. I've personally gone out with many different dive operators over the years, and I've always enjoyed diving from boats staffed with well-trained, switched-on scuba instructors and divemasters. Dive boats range from smallish six-diver skiffs to larger multi-passenger vessels, but each boat typically provides amenities like drinking water, a sunshade or awning, and a freshwater camera rinse bucket. Depending on the boat, entries are giant-stride or back roll — into water that's stunningly clear. And warm. Like I said, easy.
To describe what's below Grand Cayman's waters, I'll switch now to the word "awesome." Of the Cayman Islands' 365 named dive sites, 240 of them are on Grand Cayman, leaving plenty of options for divers of all certification levels — from beginner to ultra-tech.
Legendary Stingray City is hailed as "the world's best 12-foot dive," where you'll kneel on the sandy bottom and be surrounded by legions of diver-friendly southern stingrays. Of course, this experience is also popular with snorkelers, too.
Another of Grand Cayman's signature dive sites is the Kittiwake, a former US submarine rescue ship resting upright in 48 feet (14.6 m) of water not far off Seven Mile Beach. It rises to within 10 feet (3 m) of the surface, which makes it perfect for snorkelers and divers. At 251-feet (76.5 m) long it is the Cayman Islands' largest wreck. This site is part of a park administered by the Cayman Islands Tourism Association (CITA). All visitors are required to pay a small entry fee (divers US $10 and snorkelers US $4 per day) in order to receive a medallion or wristband, which must be worn when exploring the wreck. Reservations and fees are handled by making reservations with licensed Kittiwake operators, who offer guided tours on a regular basis. Plan on getting your spot in advance, as this is a very popular dive.
Shallow reefs and deep walls are adorned with colorful corals and punctuated with plentiful marine life. And the turtles don't shy away from scuba divers, so if you don't chase them, they'll likely hang around for a while, maybe posing for a photo or two. Reef sharks tend to be a little more skittish, but you might see a few off in the distance, especially at East End dive sites.
For those who'd rather enter from shore, here's another "easy" for you. You can gear up at one of several waterfront dive centers and literally take the stairs to the seafloor. Two popular beach dive sites feature underwater art in the form of giant bronze sculptures by artist Simon Morris. Off Sunset House you'll meet the beguiling mermaid Amphitrite, wife of Poseidon. She can be found in about 45 feet (13.7 m) of water just a short distance from shore. Amphitrite stands about 9 feet (2.7 m) tall and is a site to behold. Another Simon Morris sculpture, this one named Guardian of the Deep, depicts a handsome half-man/half-seahorse who serves as an ocean warrior-guardsman. This underwater sentry can be found in about 65 feet (20 m) of water off Lighthouse Point. He stands about 13 feet (4 m) tall and holds a circular shield in one hand and a staff in the other. Both sculptures are magnificent additions to their location's house reefs. (For more on the artist and his work, visit sculptorsimonmorris.com.)
Tech divers will tell you the deeper you go, the better it gets. Grand Cayman is tech-friendly, with mixed gas and rebreather diving and instruction available — and with walls that plunge into the deep abyss. Deeper depths are known for massive barrel sponges and huge clusters of gorgonian sea fans.
The Sea, Ashore
On an island that's only 22 miles (35 km) long and at its widest point is only 8 miles (13 km) wide, one really can't venture far from the sea. Not that you'd want to, anyway, but when your diving day is done, there is plenty of topside exploring to do while still enjoying the delightful sea breezes and beautiful blue hues.
Grand Cayman consists of five districts, George Town, Bodden Town, West Bay, North Side and East End.
George Town is the capital of the Cayman Islands and the hub of the offshore banking industry. Here you'll find nearly 600 bank and trust companies, including 43 of the 50 largest banks in the world. You'll also find duty-free shops chock-full of jewelry, watches and spirits — including Cayman Spirits Company, a local distiller of rum and vodka. Souvenir shops here are stuffed with plush stingray and turtle toys, and tie-dye Cayman t-shirts. George Town is also home to some lively nightlife, too.
Bodden Town is a former pirate hangout in the central part of the island, between George Town and North Side. Here, you'll find the Mission House, which illustrates the early life of island settlers. Just outside of George Town along West Bay Road is Grand Cayman's master-planned waterfront town of Camana Bay. According to the developer, "it all happens here, from retail therapy to culinary adventures to amazingly good times."
West Bay is home to popular tourist attractions including the Cayman Turtle Farm and the Cayman Motor Museum, Seven Mile Beach and the famous (or infamous) town of Hell. (Yes, I've been there. And I got the t-shirt.) Just north of Seven Mile Beach is West Bay Public Beach, where the locals launch boats from the public launch ramp, hang out, and have barbecues on the beach. It's my favorite beach, with a few Cayman-style restaurants. When in West Bay it's worth it to stop in at Tortuga Rum and Rum Cake Factory for a sample. Or two.
North Side is home to the ultimate beach party site, Rum Point. This master-planned attraction features everything beach-y you might wish for, including comfy hammocks in the shade of the casuarina trees and bars that serve up brain-freezing cocktails. In addition to the natural elements like crystal blue waters and sugary white sand, the manmade features include creature comforts like restrooms and showers.
East End is more remote and rugged, and home to some true natural treasures, including the Queen Elizabeth Botanical Center and the Blue Iguana Recovery Program, both of which are open to the public and host informative educational tours highlighting local flora and fauna. Here's where you'll find the Wreck of the Ten Sail Memorial Park, too.
When planning your easy/awesome Grand Cayman scuba vacation, you'll be pleased to find a wide range of dive operators ready to cater to your diving style. You'll also find accommodations to suit every budget, from quaint guesthouses to full-on five-star luxury resorts. Ditto for dining options, too. Grand Cayman has everything from fast-food drive-through joints to local fish-fry stands to some of the world's finest fine dining restaurants.
The thing about visiting Grand Cayman is that it's not so much, "why go there?" as "when?" I hope you'll soon be saying, "Oh, we're having a grand time."