Here's a look at what you'll find between the covers of the July/August 2017 issue.
---
FEATURES
Far and Wide — and Deep: A Primer on Adventure Travel for Divers
By Cathryn Castle Garcia
& Guilherme Garcia
Divers are the ones willing to travel far and wide to see what's out there — what's under there. We epitomize the words of Thoreau, who said, "Go confidently in the direction of your dreams. Live the life you have imagined." And we believe Walt Disney's famous line, "All our dreams can come true if we have the courage to pursue them." In order to enjoy the true rewards and avoid potential pitfalls of remote travel you'll need more than confidence and courage and a bit of blind luck. This article will help you plan your next big adventure.
Deep Reading: One Man's Journey to Understand the Ocean's Creatures — and Himself
By Linda Lee Walden
This feature is a Dive Training Book Club selection. James Nestor's book, "Deep: Freediving, Renegade Science and What the Ocean Tells Us About Ourselves," is an engaging account of his personal journey to learn about some of the water world's least understood creatures while discovering and facing his own fears. Chapter by chapter he leads the reader deeper — literally — into the ocean's depths, while chronicling his personal attempts to master the "secrets" of deep freediving.
In a Styrofoam Sea: Addressing the Problem of Plastic Pollution in our Oceans
By Robert N. Rossier
Approximately 10 to 20 million tons of plastic ends up in the oceans each year. The author explains how the problem of ocean pollution is swamping our seas, how it is affecting marine life — and most importantly — what steps can be taken to turn the tide of trash and take better care of the oceans.
---
COMMENTARY
Editorial: Getting Out There
By Cathryn Castle Garcia
Buddy Lines
Say Cheez
Dive Observer: BVI Releases The Kraken
By Betty Orr
No Dumb Questions: Reef-Safe Sunscreen, Dive Computers and Cold Water Corals
By Robert N. Rossier
---
DIVE EXPLORATION
Dive Geo: Clear Blue, With a Thousand Shades of Green: Exploring the Island of Dominica
By Jack Henderson
Destination News: The latest from diving hotspots
Passport: Dive travel deals from all over
Compiled by Betty Orr
Diving USA: Dive travel opportunities across America
---
EVERY MONTH
Scuba Skills: Defying Gravity: The Nuances of Neutral Buoyancy
By Barry and Ruth Guimbellot
Instructor Tips: Silver Linings: How to Regain Lost Students to Boost Your Training Program
By Greg Laslo
Always Learning: There's More to Diving than Fish Stories: The Scuba Connection
By Marty Snyderman
Dive Shop
Compiled by Betty Orr
What's That?: Roaming the Sand Biome at Night: The Spanish Dancer, the Bristle Worm and the Anemone Hermit Crab
By Marty Snyderman
Behind the Lens: Strobe Positioning to Avoid the Sandstorm
By Marty Snyderman
Premier Classifieds
Dive Training Classifieds
Dive Training Quiz
Final Check: What It Looks Like When…You Don't Share Air With a Snorkeler
By Barry and Ruth Guimbellot
---
Want your favorite scuba articles with you wherever you go? Download the Dive Training Magazine app!
---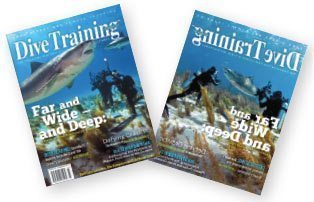 The Covers
Photos by Michele Hall
A world of adventure awaits the traveling scuba diver. This month's cover feature, "Far and Wide — and Deep: A Primer on Adventure Travel for Divers" offers practical tips for those who are ready to plan remote travel.
---
We've been publishing Dive Training magazine for 25 years now. In celebration of our "Silver" anniversary, we've made a virtual library of every cover – front and reverse – from each year of the last two and a half decades.